X-T1 body in stock at AmazonUS + X-T1 roundup: "who needs an OVF anymore?"
X-T1
X-T1 body only ($1,299): USA: AmazonUS / BHphoto / Adorama / Pictureline / EU: wexDE / wexUK / PCHstore /
X-T1 with 18-55 ($1,699): USA: AmazonUS / BHphoto / Adorama / Pictureline / EU: wexDE / wexUK / PCHstore /
_ _ _
In Stock
The body is finally in stock at AmazonUS here (sold directly by AmazonUS). The kit is in stock at AmazonUS, BHphoto and Adorama.
_ _ _
X-T1 Roundup
– Rupert Marlow first impression of the X-T1 can be read here at rupertmarlow:
"This little camera really packs a punch. It's well built, compact yet sturdy and some design elements have really improved it for a plethora of reasons.
BUT… Most of all, OVF, who needs an OVF? the viewfinder in the Fuji X-T1 is a thing of beauty. It is massive and as such, in manual focus, big enough for two screens!!"
I can honestly say, the only 2 things I find really frustrating though are the back directional buttons and how soft and recessed they are makes it hard to operate by feel and that there are no hard screen protectors available for it yet online. That is it. And the screen cover isn't even fuji's fault!
– What I Think of the Fujifilm X-T1 at bertstephani here: "I must admit it wasn't love at first sight. […] But all that changed when I got to play with a near-production prototype for an hour. […] Until a couple of weeks ago, I considered the X-E2 to be the best Fujifilm camera. However I still used my X-Pro1 as my main camera, simply because it's still a great camera, it sits better in my hands and (although I wish I wouldn't have to take it into account) it gives a better impression towards professional clients. But after only an hour with the X-T1, I knew it would become my new main camera. It's faster, weather sealed, has more features, and fits my hands perfectly."
– Éric Bouvet is back from Kiev again and shares a series called "Heroes from Maidan" on his web site: http://ericbouvet.com/Heroes-from-Maidan. These incredible and strong images were taken with the X-T1 and X-PRO1.
image courtesy: Éric Bouvet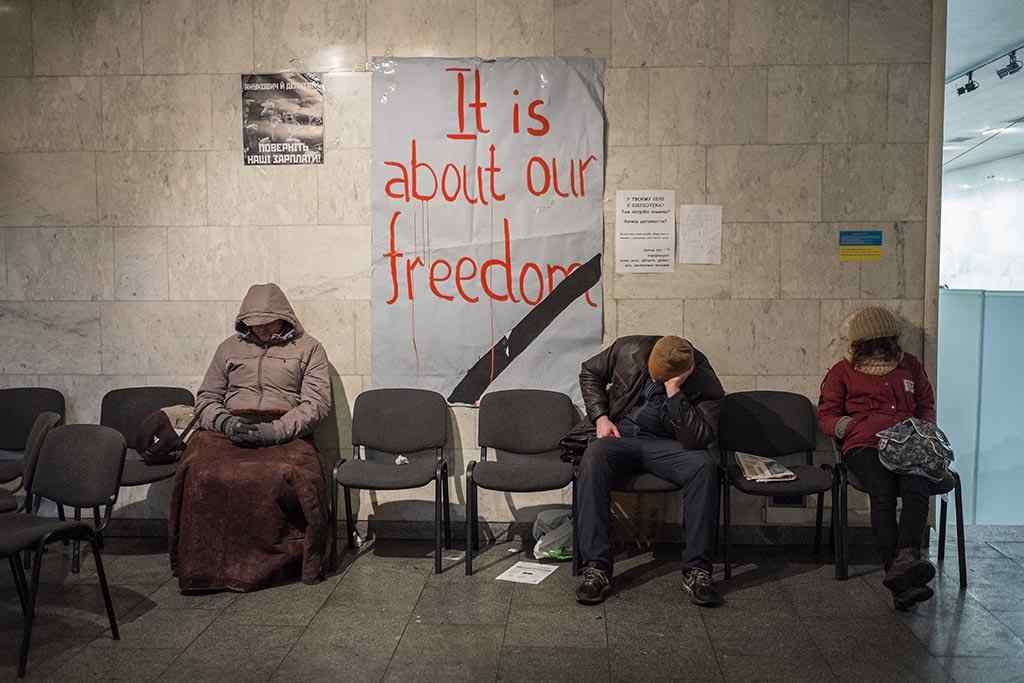 – Nice review of the Fuji X-T1 in the free online magazine F11 magazine by Tony Bridge here.
– Henry: "Hi Patrick, I wanted to share a couple of images of the X-T1 and the SanDisk UHS-II memory card – both of which arrived this week. (I bought the UHS-II SD cards directly from SanDisk).  I have to say, kudos to the engineering gods at Mt. Fujifilm…they have once again surpassed my expectations.  The two worked so well together, I could hardly tell that there was a buffer…it felt like the whole card IS the buffer. ;) I also added an image of the X-T1 with a Nikon 50mm 1.4 (using Kipon adapter) and his cousin in the X-Brotherhood, the X-E1.  All images were taken with the X-Pro1 and the 35mm 1.4. Thanks again for all that you do." Check it out at his website fortheloveofx here. To purchase the new SD-cards directly on SanDisks' shop click here.
– Fujifilm X-T1 First Impressions at admiringlight here: "There has been big talk about the EVF, and for good reason.  It's a phenomenal viewfinder.  The view is simply gigantic, and it's clear with good dynamic range and absolutely zero perceptible lag between the real world and the EVF display.  This is the best electronic viewfinder on the market.  After shooting a day with the X-T1, looking through my X-E2′s finder was almost painful."
– Kevin Mullins had the opportunity to use the X-T1, 56mm and 10-24mm at the CP+ in Japan. Read his blog post here at kevinmullinsphotography: "Of course, not everything is perfect.  There are minor niggles with the X-T1 that I'd like to see resolved, the lens roadmap is not yet complete and we are still awaiting an X-Pro1 replacement.  There are people who have issues with AF speed and lack of dual card slots and there are people who find the AF speed perfectly fine, myself included and are happy without dual slots.  It's horses for courses but the point is, Fuji really, and genuinely are listening and building a system for now, and for the future."
– more X-T1 images at outbackphoto here and here. For the gallery "the X-T1 meets the 23mm" click here.
– Remote Photography with the X-T1 at flixelpix here.
– Italian review "full frame quality in APS-C format" at tomshw here (translation).
– First impressions of the Fuji VG-XT1 Grip at f-sunny here: "The final combination looks great, is very functional, and for me, really makes the camera."
– X-T1 + Macro Switar 50mm F1.8 AR at the Japanese site dc.watch here (translation).
– Cnet review here. They say it's the best Fuji camera ever made, there is lot to like but also that "some of the controls are too hard to manipulate, its general performance doesn't stand out, and the movie quality disappoints."
– X-T1 first look at stevehuffphoto here.
– Japanese review at dc.watch here (translation).