miXed zone: X-T1, why DSLRs sell better than mirrorless systems and more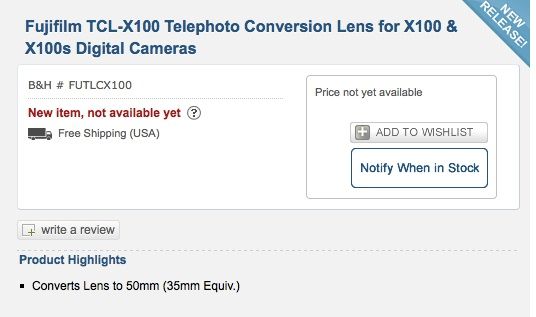 As you know, a new source told me a while ago here, that the new tele converter lens (TCL) for the X100/S will be available in late April / May. Now it is already listed at BHphoto's website here. There is still no information about the price and release, yet.
With the [shoplink 12893]WCL-X100 ($300)[/shoplink] and TCL, X100/s owner will have a three-lens mini system (28mm, 35mm and 50mm) with leaf shutter, fast aperture and terrific IQ.
X-T1
– fuji x-t1 review #1: body & controls at f8blog here: "My first impressions are as positive as I anticipated they would be. Fuji has done a fine job designing this camera. The camera controls are very logical, and since there is a dedicated knob/switch for everything, you hardly need to dive into the menu at all."
– Fuji X-T1 Review: 8 Hours Later at danielkcheung here: "Having now fumbled my way with the Fuji X-T1 at a wedding, I have a much better understanding of the X-T1′s strengths and weaknesses as per to the context of my specific experiences and usage of camera equipment. My main gripe is with the 4-direction pad and ISO dial locking mechanism. With time, I will overcome these I suppose. […] I'm not ready to say that the Fuji X-T1 is ideal for wedding photography; it is still early days. But I am happy to say that with more practice, I will get used to the quirks of the Fuji X-T1. I may make some modifications to the rear 4-direction pad. I will probably invest in faster memory cards. I also will need to wait for my XF14mm and XF56mm to arrive to do a thorough wedding test with a complete X-series camera set up. For now, I am satisfied."
XF 56mm f/1.2
USA AmazonUS / BHphoto / Adorama / DigitalRev / – EUROPE: wexUK / wexDE / PCHstore / DigitalRev
– Review at dcfever here (translation).
XF 10-24
USA. AmazonUS / BHphoto / Adorama / Pictureline / DigitalRev / EUROPE: DigitalRev / PCHstore / WexDE / WexUK
– First Impressions Fujinon XF10-24mmF4 R OIS Lens at bertstephani here: "Great lens and I wouldn't hesitate to highly recommend it to Fuji shooters who like it really wide. I'll probably stick to the 14mm but that has nothing to do with the quality of the 10-24. It's just that I don't shoot a lot of wide angle pictures and for the few that I do, the 14mm is a better choice to me because it takes up less space and weight in my bag. But if I shot a lot of wide angle work, I would definitely add this lens to my collection."
X-E2
[shopcountry 17992]
– Read trustedreviews' review here: "The X-E2 doesn't succeed in every area, failing to match competing models in terms of AF speed and Wi-fi performance. However, if you're looking for a retro rangefinder-type CSC that delivers in terms of design and image quality, the X-E2 is a pleasure to use and one of the best on the market."
– Duncan Foster: "You sometimes publish reviews of newer Fuji cameras. If you want another one of the X-E2 on a trip in Belize, the review is here. And more photos from the trip (all taken with the X-E2) are here."
– Fujifilm X-E2 review at trustedreviews here: "The X-E2 doesn't succeed in every area, failing to match competing models in terms of AF speed and Wi-fi performance. However, if you're looking for a retro rangefinder-type CSC that delivers in terms of design and image quality, the X-E2 is a pleasure to use and one of the best on the market."
– AF speed comparison X-E1 vs X-E2 on youtube here.
– Harland and Wolff at Night with the X-E2 at flixelpix here: "I packed the Fujifilm X-E2 and the 14mm and 23mm lenses. I suspected that I would concentrate on shooting with the 23mm f/1.4 to capture the lights from the rig whilst trying to keep the sky as dark as possible (which isn't easy in any city). After a number of captures with the 23mm I discovered a rather large puddle so decided to employ the 14mm to try and capture the rig, the cranes as well as their reflection."
– Fuji X-E2 – Voigtlander 20mm – Fuji 55-200 – More beauty and the beast at soundimageplus here.
– Fuji X-E2 with XF 55-200mm vs Nikon D4 with 28-300mm at stanleyleary here: "If you are used to being able to shoot sports as I have with a auto focus system as quick as the Nikon D4, then you will be a little disappointed in the Fuji. However if you never shot with the best Nikon systems, then you might be OK and not notice the delay." For his other post "Fuji X-E2 is great for meetings" click here.
X100S
[shopcountry 12883]
– NYC Long Exposures with the Fujinon [shoplink 12893]WCL-X100[/shoplink] at stephenip here: "The good thing about the conversion lens is that the filter thread is the same size as the X100S. This meant that I didn't have to buy an additional step up ring to use my ND filter. The bad thing is that you need to tell the camera the lens is mounted to get the right Exif data. Not a huge deal, but I did find myself constantly forgetting to switch this setting on and off during our trip."
– Settings for Great Black and White with the Fuji X100s – Part II at outdoorimagesfineart here: "It's a long time coming, but I wanted too finish the discussion I started about using black and white with the Fuji X100s. I extend this now to really include all the Fuji X series, including the X-Pro1 and the X-E2. If you recall from the first part I tried what others have used by increasing contrast using the red filter option. However, I didn't like the grey rendering for some colors."
– Food photography with Fujifilm X100s at pavels here: "Again, zero experience with paid food photography and Fujifilm X100s as my only workhorse camera."
– One Week in the Field with the Fuji X100s at photographytricks here: "Put simply, the Fuji X100s made shooting with a DSLR seem soulless and disconnected. For the first time in a long time, I am using a camera that seems a part of me, yet connects me seamlessly to my subject."
– Wedding Photography with the Fujifilm X100S at rogerspictures here: "One of the things I love about using this tiny camera is the fast f/2.0 fixed 23mm lens. Because the sensor is smaller than a traditional 35mm DSLR, the equivalent focal length is 35mm, and the images have slightly more depth of field than a f/2.0 lens would have on it's larger cousin. But for a camera this small, the shallow depth of field is still almost unique. I use that feature a lot in my compositions, framing the subject with natural elements, the depth of field drawing the viewers attention to the subject with less distraction."
– review at michaelkircher here: "This is in no way the most comprehensive review of this camera you can find. For that you should check out David Hobby and Zack Arias and Kai Wong. What follows is simply a first impression type of review after a few days usage. No pixel peeping or tech talk is used…well, not excessively anyway."
X-E1
[shopcountry 12881]
– A Dabble in Commercial Shooting with My X-E1 at adrielhenderson here: "My personal photography kit consists of a Fuji X-E1 paired with the XF 35mm f/1.4 and XF18-55 lenses, four cheap YN-560 speed lights, triggers, an off-brand soft box, a handful of umbrellas and stands. Add to that my DIY collection: a pile of homemade ghetto sandbags, a staples-and-felt soft box grid, and best yet, my flower-pot-turned-beauty-dish! Quite the circus, really."
– Hemanshu Narsana: "Hi Patrick, Since you keep featuring photographers and are extremely passionate about the Fuji series, I thought I'd share some photos I recently took with the XE-1 and8mm Rokinon. I am based out of India, and I don't see many Fuji photographers here, so I thought I could try and provide an Indian perspective on the Fuji scene. Everyone who sees my XE-1 or my X100s is beginning to wonder what they are missing out on! Keep up the good work. I check your site every day for updates! Thank you for doing that for us!" Read and see his post "Fuji XE-1 with the 8mm Rokinon on my trip to Pondicherry" here at yougotlittup.
– A Vintage Alternative With Fuji X-E1 by Meng Yeap at findingrange here: "The quality that is produced from the Helios 44m is awesome. The lens is sharp wide open at f/2. For me, it is sharp enough especially, when I am shooting portrait with it. But if you want to get tack sharp photos, do shoot it at f/4 and above. The bokeh produced is also very smooth and shooting it at wide open f/2, it is definitely bokehlicious."
X-PRO1
[shopcountry 12882]
– The Owl Sanctuary (Barrow in Furness) – Fuji X-Pro1 / XF 60mm 2.4 R Macro at roblowephoto here: "Up until recently, my two favourite macro lenses were always the Ricoh A12 50mm 2.5 or the Fujifilm XF 60mm 2.4 – both 1:2 (half-size) macros."
– February 17th, 2014 ….. Fuji XP1 & 15mm Heliar ….. Ideal Street Combo! at streetshooter here.
– Marrakech summer trip with the Fuji X-Pro1 at fullframeboy here.
– Fuji X-Pro1 Shoots The Moon at prometheus here: "I've been exploring astrophotography a bit more with the Fuji X-Pro1 and have been tremendously happy shooting the moon at least.  The next step in the evolution of astrophotography with this camera is to start shooting more deep sky objects."
– Fuji X-Pro1 camera test at markboltonphotography here: "My most recent camera acquisition, before the X-Pro1, was the Sony RX100… I kept it for 4 months before getting rid of it… The X-Pro 1 is obviously a different beast entirely, but I can assure you that it will still be in my camera bag for a while to come!"
– A camera build to endure klutzes: the Fuji X-Pro1 at charlenewinfred here: "The fact that my X-Pro 1 still working is a testament to how solidly this baby was built. Against all odds, despite the slew of delicious new offerings from Fuji, I'm hoping it will be a companion for many more years."
X-A1
[shopcountry 17194]
– X-A1 review at pcmag here: "The Fujifilm X-A1 is the least expensive X-series camera that Fuji sells; while it doesn't feature the company's unique X-Trans image sensor, it's still a solid performer."
X-M1
[shopcountry 13828]
X-M1 review at neocamera here: "People looking for great image-quality at an affordable price have a good deal to like about the Fuji X-M1. This mirrorless itself is also relatively compact and saves weight compared to a DSLR. While Fuji's lenses are not the smallest, most offer impressive image-quality which allow the X-Trans sensor to show its full potential."
lenses
– Fuji 55-200mm review at thephotofrontier here: "If you are looking for long lens with great image quality, a pro build, and very functional image stabilization…well, this is it!"
– Zeiss Touit 32mm f/1.8 (Fujifilm) – Review / Test Report Lens Reviews – Fujifilm X-Pro at photozone here: "The Zeiss Touit 32mm f/1.8 is capable of delivering the high quality results that we associate with this brand. The images are sharp straight from the max. aperture and the center quality is even stunning when stopping down."
– A Very Brief Review of the Fujinon XF 35mm 1.4 lens at colinnichollsphotography here: "Peoples main love of this lens comes from its outstanding sharpness, I'm not going to make tests and charts, but show two examples of just how good it is, even wide open, which is how I shoot this lens most of the time."
– Hands On with Fuji's Premium X-Series Long Lens at macleancomms here: "Well the image and build quality are on a par with the other X-Series XF lenses and despite the variable aperture, the images are sharp across all focal lengths and at all apertures.  Even with the aperture wide open and the lens zoomed out to 200mm, the results are really impressive."
– XC 50-230mm review at photographyblog here: "Priced at £379 / $399, we probably wouldn't rush out and buy one, but the Fujifilm XC 50-230mm F4.5-6.7 OIS is definitely a cut above the usual cheap telephoto lenses. If you can't stretch to the better-performing and better-built Fujifilm XF 55-200mm F3.5-4.8 R LM OIS, or can't wait for the upcoming XF 50-140mm f/2.8 R OIS WR, then this affordable telephoto lens is still worth adding to your X-series system."
Speed Booster:
[shopcountry 16275]
– Metabones Nikon F to Fuji X adapters at fujixtras here: "Looking at the Speed Booster, the resulting images come very close to the "experience" obtained with a full-frame camera, and the image quality of the attached lens is largely preserved. The extra f-stop is a welcome addition to that. The Speed Booster helps to fill gaps in Fujifilm's current XF lens line-up, at least until new lenses are added to the roadmap and become available (and the extra cash is spent)."
RAW-conversion / Jpeg vs RAW

– Hank: "Patrick, I just published an article that attempts to discover whether there have been any meaningful improvements in processing X Trans files in the new ACR release. As always it can be found at henrysmithscottage.com. Thanks!" – Later versions of ACR are much better than the early versions. I'm not sure if there is much improvement in detail with the newest release. I'll use it though.
– JPG vs RAW at arihallami here (translation): "Yet another story for Fujifilm shooters. This time it's about how to scale your images to have a filmy look and why not to shoot JPG with high ISO. Google translate will probably make a mess with translation, but the images will tell you the obvious."
– A first look at the Fujifilm Film Simulation modes with Adobe Camera Raw 8.4 at mirrorlessons here: "[…] the update remains interesting as it gives you a starting point to build upon in the recreation of your Fujifilm OOC JPGs taken with the in-camera film simulation modes. The rendering may not be identical but at least you aren't creating something out of nothing as you would be if you were working the RAF files without the Camera Raw update."
– Dan Bailey: "Here's another- shooting RAW with the X-T1 and seeing how much information is actually preserved in the X-Trans sensor on the X-T1." Read more at danbaileyphoto here. "As much confidence as I have in the Fuji JPEGs, sometimes RAW is necessary if you want to preserve the maximum level of sharpness, exposure and color info in your image, especially in tricky light. Seeing how well the 16MP X-Trans sensor handles RAW gives me even more confidence to use the X-T1 in any kind of situation."
– Film Candy for Lightroom Now Available at thomasfitzgeraldphotography here: "After over a year of going back and forth trying to port my Film Candy presets to Lightroom, I'm delighted to say that they're finally available. Film candy for Lightroom is a set of Develop Module that I designed to create a stylised image based on the look of expired and instant film."
–  Optimal Sharp and Optimal Snap a good combination for Fuji X-T1 Images at outbackphoto here.
a little bit of everything
– Why Do DSLRs Still Sell Better Than Mirrorless Systems? at amateurphotographer here (via CanonWatch via MirrorlessRumors).
– Another Fuji manager says: "Full Frame? First complete the APS-C line, and then maybe… we are investigating!" Read more at the Spanish site dslrmagazine here (tranlsation).
– Fujifilm 2014 Rajasthan Photo Trek at thedigitaltrekker here: "It is always difficult to find even a few moments to post photos and updates when leading a workshop. But we have made it to Pushkar and that means for the participants of the Fujifilm Rajasthan Photo Trek a day of rest."
– My Mirrorless Choice(s) – Fuji X-E2 and/or Fuji X-M1 and/or Sony A7 and/or Panasonic GX7 – Part 4 – Fuji X – Beauty and the Beast at soundimageplus here.
– V Opoku: "Hey Patrick, I just returned back from shooting a wedding in Jamaica. I shared my thoughts with Fujifilm UK on using their cameras for wedding photography, and it ended up as an interview blog post on their site (read it here). Just thought I will share the post with you and I hope that it is helpful for any  wedding photographers who are interested in the Fujifilm X-Series, especially with the newly announced XT1 looking pretty good. Here is the link to the wedding."
. Mat: " […] Fujifilm is going to discontinue the best medium format instant film, the 3×4 FB-3000b. This saddens me and about 11.000 customers who signed a petiton. I guess there is a way to stop Fuji from stop production: selling directly from Fuji's sites? Producing after a great global order placement? In marketing terms, it is important for Fuji itself to keep a strong connection with instant analogue artists and enthusiasts. It would be great if you could make some room in your blog for this petition: https://www.change.org/petitions/stop-the-discontinuation-of-fuji-3000b-instant-film-by-fujifilm. I'm not a native english speaker so, please, forgive my mistakes. Thank you Patrick. Kind regards, Mat, Milan"
– A FR-reader wrote me: "Have you ever seen the site Pixel Peeper? Well Fujifilm has seven (7) lenses in the top 20 most popular and the 35mm f1.4 is in the top spot under mirrorless lenses."