X-E2 rumor update: better WiFi (than on the X-M1), no tilt/touch screen, new position for the Q button and more!!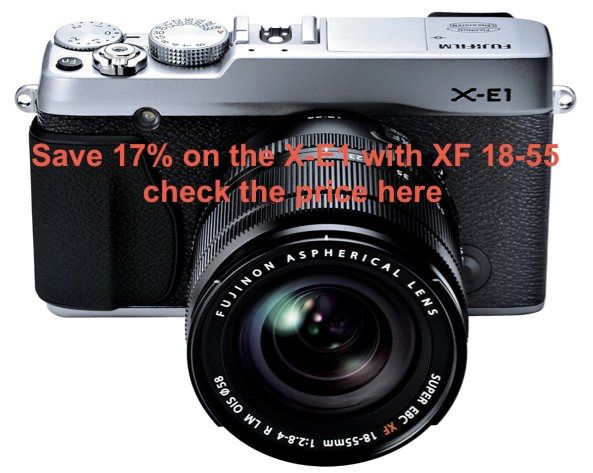 The X-E1 deal expires October 23. Save $200 on the X-E1 + 18-55mm lens.
Check the deals out at AmazonUS / BHphoto / Adorama (also exclusive kit deal X-E1+27mm) / Pictureline / [shoplink 17350 ebay]eBay ($ 879 body+lens)[/shoplink] (found via dealsrunner)

Hi guys,
I've done my homework and here is an update about the X-E2 :)!
A long time trusted source just confirmed the rumors previously posted on FR… and told me more.
1) the WiFi on the X-E2 will have more options as the WiFi on the X-M1 (what option would you like to have?).
2) it will have face detection as the X-M1.
3) the Q menu moved to another, better position (where would you like to have it?).
4) video mode will be improved and allow full manual control.
5) no tilt screen / no touch screen.
we already know from the Japanese source that it will also have:
6) the second generation X-Trans sensor with phase detection AF
7) faster EXR II processor
8) better LCD
Which are your most welcome additions/changes of the 8 listed here? Is there something you'd like to add? From the rumors you've heard until now, do you think is it worth to upgrade? If you don't think so, but want to switch to the X, then check out the X-E1 deals at AmazonUS / BHphoto / Adorama / Pictureline
Stay tuned via facebook, twitter and RSS feed and follow us October 18th!
X-Pert Corner Tomorrow
After the first reviews (ephotozine / photographyblog) of the X-A1, X-Trans shooter felt disoriented: How is it possible that a $600 camera (with lens) delivers better images than the $1,200 X-PRO2 (body only)? Was it all just a hype and clever marketing? Is it time to get rid of the X-Trans sensor?
But we had to wait for more feedback in order to compare better the real performance of the sensors (RAW) and the software engines (JPEG).
1) It started with Rico's shootout X-A1 vs X-M1 here.
2) Then it was the turn of Max to take a closer look at the X-A1 performance compared to the X-Trans cameras (riflessifotografici here – English version). I also shared this forum thread here at dpr.
3) But, as you know, everything that has a beginning, has an end. The final word in this trilogy could be spoken tomorrow in Rico's XPC special! He is using a pre-release version of Photo Ninja that supports the X-E1 and the new X-A1. He developed both RAW files and uploaded them on Flickr as maximum resolution JPEGs (check the links). Stay tuned tomorrow, will the final word be spoken tomorrow?
Here's a direct comparison of 100% crops. Here's the full-size X-A1 image. Here's the full-size X-E1 image.
Lightroom and PhotoNinja Integration for X-Trans here.
But make up your own minds, feel free to check the links, and vote the polls:

Loading ...

Loading ...