Will Fuji X Gear Ever be So Cheap Again? :: Last 2 Fuji USA X Deals Days!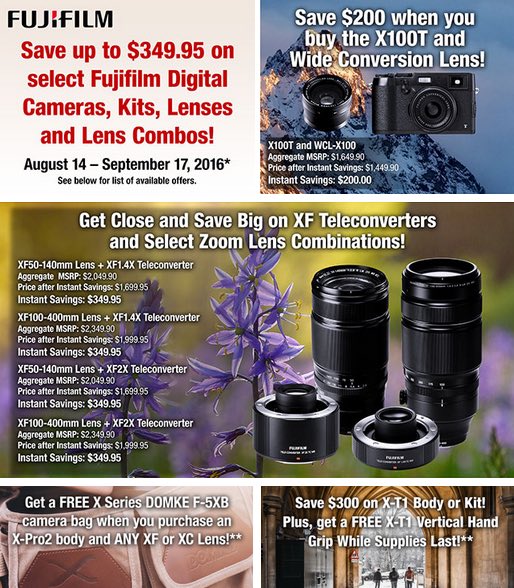 In the last months we have seen price increases all over the world (on Fuji Gear and also other brands), due to the Kumamoto earthquake and the currency fluctuations following the Brexit vote.
This does NOT mean, that Fujifilm will for sure raise prices on X-gear in USA (I have no rumors about it). But on the other hand I also can't assure you, that in a few months from now, Fuji won't "adjust" the price tag on Fuji X gear also in USA.
I don't know what's better, wait and hope for the best (and maybe an even better deal in future), or get it now. This decision is up to you.
EXPIRE SEPTEMBER 17
Lenses
NOTE: BHphoto offers 4% Reward on the X-deals. Check out the Overview at BHphoto.
XF 23mm (save $250 + $100 Gift Card): Adorama
XF 27mm (save $100 + $50 Gift Card): Adorama