Whoops, They Did it Again: Sony Announces A7III… Fujifilm X-H1 Vs. Sony A7III Specs and Size Comparison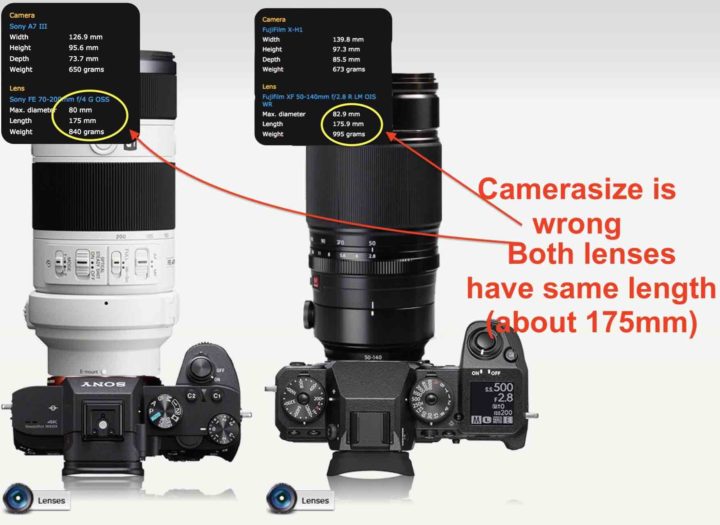 Sony Vs. Fuji (once again :) )
So it happened again, Sony launched yet another A7 series camera, the brand new Sony A7III.
The "battle" between Sony and Fujifilm is definitely an exciting one in the industry.
Not only because they both keep release great products, but also because their different philosophies.
As we have written here, Sony acts "fast and furious", and never hesitates to put as quickly as possible the latest and greatest specs into their cameras.
So it can happen that, within a few months, they announce the Sony A6300 and shortly after the A6500 with IBIS. And not to talk of the infinite variations of Sony A7 (and now also A9) cameras.
Fujifilm on the other hand, is definitely not in a hurry when it comes to release new iterations of their cameras and they focus to support their customers with frequent firmware updates for their cameras.
But also the Fujifilm world sees major "specs-jumps" in their line-up, just not as rapidly as in the Sony world.
A good example is the Fujifilm X-H1, which now has IBIS. Fujifilm worked very long on their IBIS system, because they say they wanted their IBIS system to work perfectly without affecting image quality. Hence, it took them more time to come with an ideal IBIS solution for their cameras.
I am not here to judge which philosophy is better. At the end it will be the market to decide who's the winner.
However, I have personal preferences, and in my case, I prefer to buy a camera that I know Fujifilm will take care of over next few years, giving me nice firmware updates.
Also, a potential downside of acting "fast and furious", is that, maybe, sometimes, certain features will look great on the specs sheet, but not work as that good as intended in real life use.
For example, as imaging-resource tested here, the weather sealing on the Sony A7rIII has some serious design issues. And recently there were also some doubts about the Sony's IBIS efficiency. Not to talk of all the overheating issues Sony was dealing with for a long time.
But in any case, it is undeniable that Sony is pushing the industry and continuously raising the "specs-bar". This is a huge merit we acknowledge also here on FujiRumors.
Specs Comparison
Now, at this moment, neither the Fujifilm X-H1 nor the Sony A7III has hit the market. So we will have to wait a bit longer to see some real life comparisons.
What we can say, is that, on paper, both cameras have some simimilarities, some aspects where the Sony A7III beats the Fujifilm X-H1, and others, where the Fujifilm X-H1 is superior, such as the 200Mpbs video, the brighter EVF and so forth. But again, it's all "on paper".
I have made a "specs comparison data sheet" that you can download from my dropbox or see at the bottom of this post.
Beyond the Specs Sheets
Of course, all the specs comparisons on earth can't tell you how both cameras feel in the hands, and which one you enjoy more shooting.
I hear that in the Sony world, there are a lot of Sony people complaining about the menu and the ergonomics, and I know that even the biggest Sony fanboy on earth, SonyAlphaRumors, is jealous about the controls of Fujifilm cameras and also about the frequent Kaizen updates we get.
But again, this is personal taste. It's up to you to decide how important ergonomics, firmware updates and even look are, and which system fits your needs better.
And then there are colors, the shutter sound, the face/eye detection, the efficiency of the weather sealing and other things, that at this moment nobody has made side by side comparisons of, but they will come for sure, and you will find the reports here on FujiRumors.
And last but not least, the heart of every system are its lenses, which is something that you have to take into account, when you look at different systems.
Size Comparison
What we can compare (besides the specs on paper), is the size and weight, using camerasize.com.
At the top of this article you can find the Sony A7III + Sony FE 70-200 F4 Vs. Fujifilm X-H1 + XF50-140 F2.8. As you can see, there is still a size advantage for the ASP-C system. UPDATE: In this case, camerasize has made a wrong representation. On paper, both lenses are about 175 long. But camerasize shows the Fujinon XF50-140 much shorter. Sadly it's not the first time that camerasize makes such errors.
Also in the 50mm battle, we can see that the 35mmF1.4 lens is smaller than the Sony FE50mmF1.8. But given the bigger X-H1 body, overall the size advantage is gone.
According to the data at camerasize, this does not translate always into a weight advantage for the Fuji. Some Fujifilm X-H1 combos are actually a bit heavier than the equivalent Sony A7III combos. But I don't know if this is related to "different" (not to say "better") built quality.
I have to go…
And sorry guys, but this afternoon I planed to shoot a bit in the cold sun here on my mountains… with my X-E3, which is already more than I deserve ;)
Fujifilm X-H1 – $150 Bundle Savings: BHphoto, AmazonUS, Adorama, Focuscamera
Follow FujiRumors on Facebook, RSS-feed, Instagram, Youtube and Twitter
Fujifilm X-H1 Coverage: X-H1 facebook group + X-H1 facebook Page