Voigtländer Nokton 23mmF1.2 X Additional Specs and Images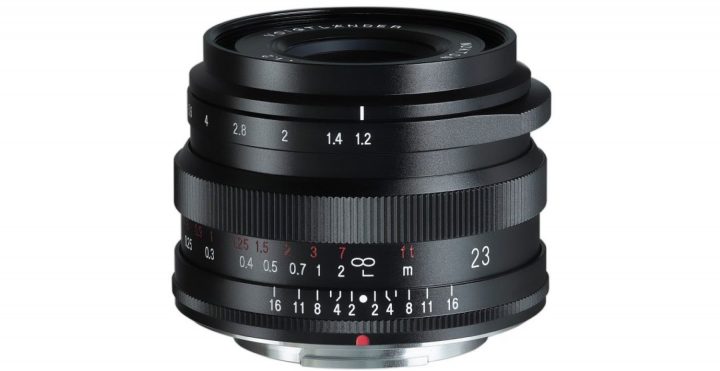 Yesterday we reported how Cosina, in addition to the current Voigländer Nokton 35mm f/1.2 X, is about to launch also the Voigländer Nokton 23mm f/1.2 X.
Now Cosina has published the main specs and a new product image (see above) of this lens at their website in Japanese, which I now report here on FujiRumors machine translated.
A large aperture quasi-wide-angle lens with the latest optics using one double-sided aspherical lens and two abnormal partial dispersion glass. Although it is a compact size, it has excellent resolution from the aperture opening, and large blur due to the large aperture of F1.2 can be obtained.
Just as the 35mm version, also this one has electronic contacts to transfer certain information such as EXIF data.
I love the look of this lens, and actually also of the Voigländer Nokton 35mm f/1.2 X. And although I am tempted to get one, I so far have not treated myself with one, since I'd pay for features (the electronic contacts) that do not work on my Fujifilm X-E3.
This is why I got the much more affordable TTArtisan 23mm f/1.4, which you can see attached to my X-E3 here.
At the bottom of this article you will also find which Fujifilm X cameras are currently supported.
Specs & Supported Cameras
| | |
| --- | --- |
| focal length | 23mm |
| Caliber ratio | 1:1.2 |
| Minimum aperture | F16 |
| Lens configuration | 10 elements in 6 groups |
| angle of view | 63.2° |
| Number of aperture blades | twelve sheets |
| The shortest focusing distance | 0.18m |
| Maximum magnification | 1:4.9 |
| Maximum diameter x total length | Φ59.3×43.8mm |
| Filter size | Φ46mm |
| weight | 214g |
| lens hood | Dedicated hood included |
| aperture ring | Equipment (manual aperture) |
| electronic contact | there is |
| Communication function 1 | Exif information support |
| Communication function 2 | Focus check: Supported |
| Communication function 3 | Parallax correction: Supported (X-Pro3) |
| Communication function 4 | In-body image stabilization: Supported (limited to models with in-body image stabilization) |
| Communication function 5 | Shooting distance linkage display: Supported |
Body Firmware X–H1 v1.10 or later
X-T4 v1.00 or later
X-T3 v1.00 or later
X-T2 v4.10 or later
X-Pro3 v1.00 or later
X-S10 v1.00 or later
X-E4 v1.00 or later
X-T30 v1.00 or later
via Cosina
We Have It!
40K+ Members in Record Time and Growing Faster than Ever!
Follow FujiRumors on Patreon, Facebook, Instagram, RSS-feed, Youtube, Flipboard and Twitter
Join Our Owners Groups