New Voigtländer Nokton 23mm f/1.2 for Fujifilm X Coming Soon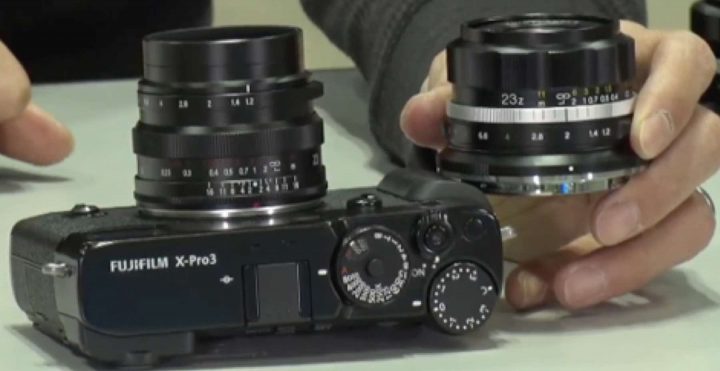 Voigtländer Nokton 23mmF1.2 X
Last year, Cosina launched the Voigtländer Nokton 35mmF1.2 X, with no autofocus, but with electronic contacts which allows for transfer of EXIF data and more (more details at the bottom of the article).
Now Cosina will also launch the Voigtländer Nokton 23mm f/1.2 APS-C lens for Nikon Z and Fujifilm X mount.
Also in this case, there will be electronic contacts but not autofocus.
It's nice to see that Cosina understands us Fujifilm X shooters (or most of us) better than what Sigma does, and did put the effort to design the X mount version with an aperture ring. I wish the new Sigma X mount trinity would have an aperture ring too. But it's no dealbreaker in my eyes. I shot my 27mmF2.8 without aperture ring for long and with great joy (but I replaced it now with the new XF27mmF2.8 with aperture ring).
For me, shooting Fujifilm is not only, but also about the experience. This is also the reason why I got the TTArtisan 23mm f/1.4. It's the look and feel of it, attached to my X-E3 or X-T4, that simply makes me enjoy shooting with it every now and then.
And surely the new Voigtländer NOKTON lenses for Fujifilm X hit the same nerve, with a lovely vintage design and the bonus of electronic contacts that make it an appealing option for X shooters.
Personally, though, the Voigtländer options is not on my radar, because my Fujifilm X-E3 camera is not supported (yet). The full list of supported X series cameras can be found at the very bottom of this article.
New from Sigma
via dc-watch and digicame-info.
Follow FujiRumors on Patreon, Facebook, Instagram, RSS-feed, Youtube, Flipboard and Twitter
The Fastest Growing Fujifilm Group
Join Our Owners Groups
Voigtlander NOKTON 35mm F1.2 X – Important information regarding data communication: There are restrictions associated with different camera models.
Transfer of EXIF data possible  – (note * 1) (note * 2)

Focus magnifier (focus peaking) –  possible

Distance display possible

Distance display – possible

Image stabilization – possible on all models with an image stabilization

function

Parallax compensation – only possible with X-Pro3 Body
Communication compatible models und Firmware (note *3)
Body Firmware X–H1 v1.10 or later

X-T4 v1.00 or later

X-T3 v1.00 or later

X-T2 v4.10 or later

X-Pro3 v1.00 or later

X-S10 v1.00 or later

X-E4 v1.00 or later

X-T30 v1.00 or later