This PDF Lists 80 Fujifilm Film Simulation Custom Profiles You Can Try out Yourself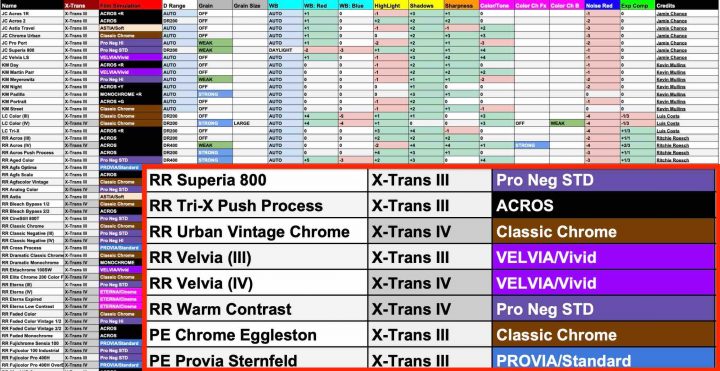 Here on FujiRumors we have shared quite a few articles about people, sharing their customized Fujifilm film simulation profiles.
From Peter Evans, who was inspired by the masters of the past and present, and fine tuned his film simulations to emulate the look of their images (we reported here), to Ritchie Roesch, who tried to recreate the look of old film stock by adjusting the settings of various film simulations (we reported here).
Then there are the receipts shared by renown photographers, for example Kevin Mullins (we reported here).
And of course there are lots of other Fujifilm X shooters, who played around with the film simulation, trying to achieve a particular look.
In fact, there are so many, that we might have lost a bit the overview.
But luckily over at our fantastic Fujifilm X-Pro group, fellow X shooter David collected 80 film simulation receipts and shared them all in a very practical PDF.
It is an amazing and surely very time consuming effort, that I would like to share with everybody, and not only with the members of the closed X-Pro group. So here is the link to David's public facebook post and for the direct link to Google Docs click here.
David is still working on the document, so check back regularly for the latest updates.
Great job, David – see his personal facebook page – instagram page
Our Owners Groups
Our Facebook Pages