The Non-Love Story between DPReview and the Fujinon XF50mmF1.0 Continues – Silver Award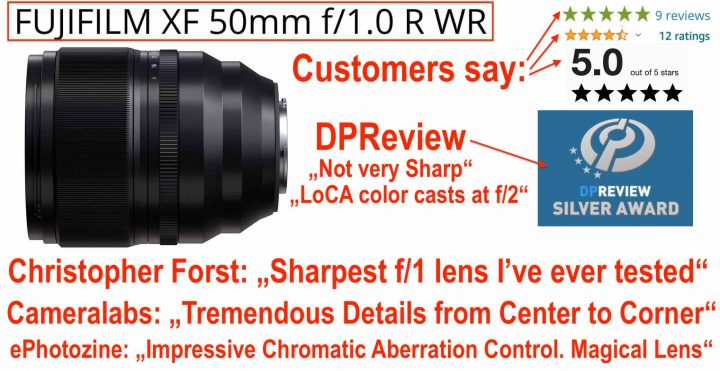 DPReview has no love apparently for the Fujinon XF50mmF1.0. Let me explain.
The Fujinon XF50mmF1.0 was declared the worst lens of 2020 by DPRTV here due to the lens being soft and showing too much chromatic aberration. And now it got the silver award at DPReview.
Before we look at the negatives, here is what Rico wrote in the comments:
Now let's get into it.
Really?
An f/1.0 lens with autofocus and weather sealing for $1,499 is expensive? So what is a fair price for an f/1.0 lens with AF? Maybe $799?
Look, I remember when I shared the first rumor with the price of the Fujinon XF50mmF1.0, the vast majority of readers had one reaction: it's more affordable than they would have thought.
I guess the rather gentle price (for an f/1.0 lens with autofocus) was part of the reasons why the Fujinon XF50mmF1.0 was the blockbuster lens of 2020, meaning it was the by very far best selling Fujinon XF lens of 2020.
close focus distance only 70cm
Is that really a negative?
For such lenses, a close focus distance of 70cm is actually quite good. Let's look what similar full frame lenses have in terms of close focus distance:
But OK, on Fuji lenses this is a serious issue. I guess on other lenses it is not.
Not very sharp until F2.8 or narrower
I guess it depends on what we expect. If you want f/8 performance on a f/1.0 lens at f/1.0, you'll always be disappointed.
And by the way, other reviewers see it differently.
Christoper Forst called it easily the sharpest lens he has ever tested at f/1.0 here and Cameralabs said it has tremendous details from center to corner here.
LoCA color casts at F2.0 or wider
In other words: take the most radical situation you can create (metal + bright sun) and then use the lens in the most wrong way possible (wide open at f/1.0), and then complain that the lens shows chromatic aberration. Because that's what DPReview did. Please do that with the other ultra fast lenses too. Exactly the same condition. You'll be astonished to see they'll also struggle with chromatic aberration.
Other website, who made lab testings by using all lenses under the same conditions, came to different conclusions.
For example, ephotozine concluded in their technical analysis that the chromatic aberration control is impressive and called this lens "magical" here.
We all would like it to have a pancake size, but we need to dig up some Marvel Vibranium and craft glass on the sun to be able to achieve that. Until then, f/1.0 simply won't be the most compact lenses you can find.
So you complain about the big size, and you want it to make it even bigger by putting OIS into it? Oh, well. At least there are nice Fujifilm cameras with IBIS out there.
And What do Customers Say?
Look, the Fujinon XF50mmF1.0 was a huge hit. And so far, the customers reviews we can read at AmazonUS here, at BHphoto here and at Adorama here are extremely positive. And so are the reviews of other reviewers.
But DPReview is of course a reputable source, so here are are again their Pros and Cons.
What we like
Balances well with larger X-mount bodies
Truly luscious bokeh
Very flat plane of focus
Excellent flare and ghosting resistance
No focus breathing
Comprehensive weather-sealing
Solid build and good controls
Very effective lens hood in the product bundle
What we don't
Not very sharp until F2.8 or narrower
LoCA color casts at F2.0 or wider
Cat's eye can be an issue at apertures wider than F2.0
Slow autofocus and occasional AF hunting
Low maximum magnification
No in-lens stabilization
Fairly big and bulky
Quite expensive
You can read the full review at dpreview here.