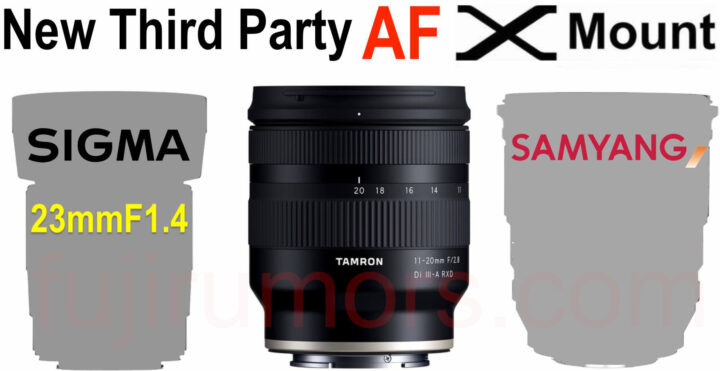 Third Party X Mount AF lenses
Latest leaks, rumors and speculations suggest that the Fujifilm X System might grow of several third party autofocus lenses very soon.
Two lenses are confirmed at this point. One lens is not confirmed, but there are hopes for it come soon.
So let's put some order in the latest rumors and speculations.
SIGMA
As we reported here, the specs for the Sigma 23mm f/1.4 DC DN have leaked. It will come also for Fujifilm X mount. So that's sure to come soon.
It will be Sigma's fifth autofocus lens for the X system in addition to the four they already offer here.
SAMYANG
This is a rumor that comes from our sources. Also in this case the announcement should be imminent. We don't have additional specs for now, but it will come and it will be Samyang's second AF X mount lens after the Samyang 12mm F2 AF.
TAMRON
Undoubtedly the lens most of you desire (as we can see from this survey): the Tamron 11-20mm f/2.8 Di III-A RXD.
Now, at this point there are no rumors about it. All we have is a rumor that Tamron is having an announcement on February 22.
Tamron has basically already said back in 2021 that they will release the Tamron 11-20mm f/2.8 also for Fujifilm X mount. Let's hope that February 22 will finally be the day.
Full List of Third Party AF X Mount Lenses