RUMOR UPDATE: Upcoming Third Party Autofocus X Mount Lens is NOT from Chinese Manufacturer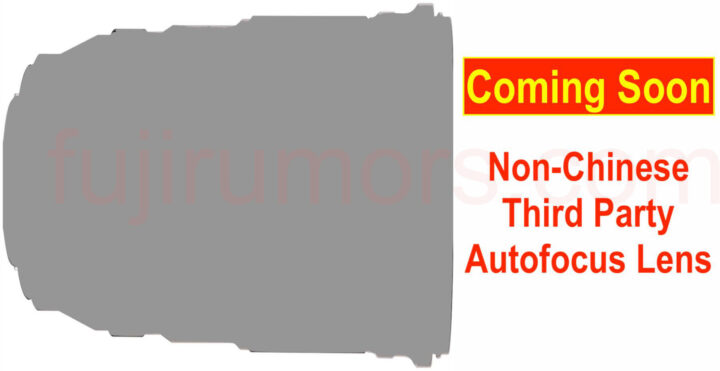 We told you recently here that a new third party autofocus lens is about to come for the X system.
Well, now we have an important update that rules out quite some options.
According to information we have received, the upcoming third party AF lens will not be from a Chinese manufacturer.
So which are the brands left?
From those, who already offer AF lenses, we have Tokina, Tamron, Sigma, Samyang and Zeiss.
Let's discuss the options:
Tamron
There is the lovely Tamron 11- 20mm F / 2.8 Di III-A RXD that Tamron itself hinted here would come also for the X mount in future.
Sigma
I think whatever Sigma has in terms of mirrorless DC lenses (DC = APS-C lenses), is already offered for X mount. But they could adapt an FF lens to the X mount. So if it is coming from Sigma, then it must be something new, or maybe adapted from their Full Frame glass, as for example Tamron did with their Tamron 150-500mm f/5-6.7.
Tokina
Tokina has until now only the Viltrox-clones for X mount. However, they have launched a dedicated mirrorless APS-C lens (for Sony) last year, the Tokina 11-18mm f/2.8. However, when they launched that lens Tokina has not hinted that it would come also for the Fujifilm X mount.
Samyang
I know Samyang offers the Samyang 12mm F2 AF lens for X mount. But I am not aware of Samyang having any other APS-C autofocus lenses available for other mounts.
Zeiss
I feel we can rule out Zeiss, as they are virtually dead in regards to AF X mount lenses. They could have been very successful, as they entered the AF X mount market when Fujifilm hardly had any lens available. But they did so by offering lenses that Fujifilm already offered at a lower price than the Zeiss Touit lenses. Such a missed opportunity.
Surprise
Will a new brand join? Well, I can't rule that out either for now.
Your Guess
Just for fun, a little survey where you can make your guess on who will offer the next X mount AF lens ;).

Loading ...
Full List of Third Party AF X Mount Lenses
Available Now:
Pre-Announced
Rumored to Come Next:
We Don't Forget:

Electronic contacts for software correction support, EXIF, etc, but no Autofocus
We Have It!
40K+ Members in Record Time and Growing Faster than Ever!
Follow FujiRumors on Patreon, Facebook, Instagram, RSS-feed, Youtube, Flipboard and Twitter
Join Our Owners Groups