Fujifilm Patents (Full Frame) Fujinon 27-184mmF3.5-5.7 and 26-175mmF3.5-5.8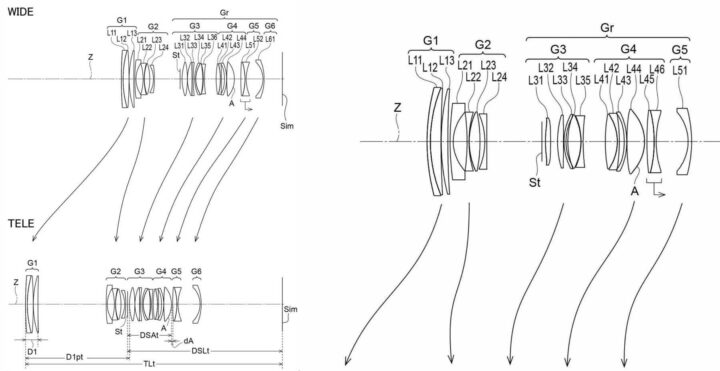 Asobinet spotted new Fujifilm patents.
Asobinet also notes that looking at the angle of view, these look like zoom lenses for full frame, but since Fujifilm has no Full Frame camera, there is no possibility for such zoom lenses to ever become real.
They also note that the lens configuration has a lot in common with the Fujinon XF18-135mmF3.5-5.6 R LM OIS WR (although the rear group is completely different) and maybe this could be a patent for an eventual replacement.
FujiRumors says: whenever you see a patent, forget about it. In 99,9999% of the cases they never become real products. At least in 11 years of blogging on FujiRumors and hundreds of patents shared, I still have to find the one patent that later on became a real product.
Patents
[Irture] We provide a small and lightweight zoom lens while achieving a high variable ratio and a imaging device equipped with this zoom lens.
Example 1
Focal length: 27.30-184.18
F value: 3.49-5.70
Angle of view: 81.2-12.8
Back focus: 14.5210-64.6757
Example 2
Focal length: 25.87-174.53
F value: 3.5-5.80
Angle of view: 85.6-13.6
Back focus: 21.0195-56.6225
via asobinet