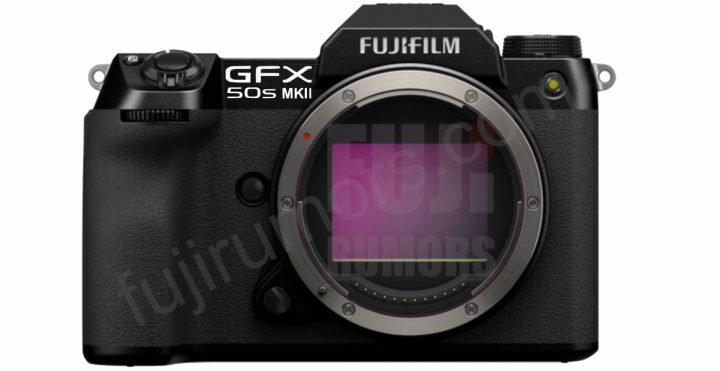 Nokishita has leaked the specs and details for the Fujifilm GFX50SII and the Fujinon GF35-70mm F4.5-5.6 as well as for the XF23mm F1.4 R LM WR and XF 33mm f!.4 R LM WR leaked.
"GF35-70mm F4.5-5.6 WR"
11 elements in 9 groups (1 aspherical lens, 2 ED lenses)
minimum 35cm,
maximum 0.28x
filter 62mm, size φ84.9mm x 73.9mm (Collapsed) / 96.4 It seems to be mm (Wide) /95.7mm (Telephoto)
weigh 390g
Fujifilm "XF23mmF1.4 R LM WR"
15 elements in 10 groups (2 aspherical lenses, 3 ED lenses)
minimum 19cm,
maximum 0.2x,
filter 58mm
size φ67×77.8mm
380g
FYI: Specs of original XF23mmF1.4 R
11 Elements in 8 Groups
minimum focus 28 cm
maximum magnificaion: 0.1x
filter size 62mm
size 63 x 72 mm
weight 300 g
"XF33mmF1.4 R LM WR"
15 elements in 10 groups (2 aspherical lenses, 3 ED lenses)
minimum 30cm
maximum 0.15x
filter 58mm
size φ67×73.5mm
360g
FYI: Specs of XF35mmF1.4 R
8 Elements in 6 Groups
minimum focus 28 cm
maximum magnificaion: 0.17x
filter size 52mm
size 54.9 x 65 mm
weight 187 g
Announcement is on September 2 at 9AM New York time. Make sure to follow FujiRumors.
Fujifilm GFX50SII
GFX50S II offers the perfect mix of accessibility and flexibility. Pair it with the new GF35-70mmF4.5-5.6 WR lens and you' II find a wonderfully affordable combination that delivers images from a 51.4-megapixel sensor, which makes it the perfect gateway to !arge format photography. Get outstanding results w ith professional features that include 19 Film Simulations, advanced autofocusing, and a vast range of exposure controls providing limitless opportunities for creativity.
The Freedom to Create
GFX50S II features a redesigned in-body image stabilization (IBIS) system that is 20% smaller, and 10% lighter, than the version found in GFX 100. Despite this reduction in size and weight, it provides up to an impressive 6.5 stops of five-axis stabilization (based on CIPA standards), providing dramatically broad possibilities for image makers wanting to work more freely with slow shutter speeds. Even when light levels are low, and a tripod isn' t available, steady images are on the horizon.
GFX50S II weighs just 900g and is similar in size to many to full-frame camera s, which makes the ergonomically contoured handgrip and PASM dial – used to access the camera' s main exposure functions
– feel wonderfully familiar and accessible. A gorgeous blend of curves and edges, the camera body is finished with a top-plate LCD to display key settings, a redesigned focus lever, and a feather-touch shutter release to turn that familiar feeling into an intuitive image-making experience.
Responsive Autofocus for Ultimate Creativity
Fast, reliable autofocus comes to GFX50S II, thanks to a combination of advanced technologies and Fujifilm' s powerful X-Processor 4 imaging engine. Sensor readout speeds have been boosted from 130fps to 250fps compared to GFX 50S, enabl ing razor-sharp responses – whether subject tracking or picking out a face in a crowd. An improved autofocusing algorithm, taken from the latest FUJIFILM X Series and GFX System camera s, boosts focusing performance in all modes, including face and eye detection. The AF system also brilliantly works in tandem with in-body image stabilization (IBIS) to provide up to 6.5 stops of handheld stability. This simply means the camera' s autofocusing performance will be up to the task when the creative senses are flowing.
Proven Technologies Deliver Outstanding Results
Fujifilm has been perfecting its color science know-how for more than 85 years – and all the knowledge from this impressive heritage has been poured into GFX50S II. The 51.4MP !arge format sensor uses a specially designed CMOS Bayer array that delivers images with minimal noise and an incredibly wide dynamic range, while 19 Film Simulation modes allow creatives to produce images with colors that stir emotion and memories. Coupled with the ever-growing family of G Mount lenses that can resolve sensors of 1OOMP or more, this is a camera – and system – that meets the demands of exacting creators seeking the ultimate image quality.
Fujinon XF23mm F1.4 R LM WR
Perfect for Today, Ready for Tomorrow
When making images is a passion, image quality can be all-consuming, especially as technology evolves and image resolutions increase. Capable of resolving up to 40 megapixels. XF23mmF1.4 R LM WR is an incredible combination of portability and performance that will continue to provide stunning detail and vibrant colors with minimal imperfections long into the future.
For those Unpredictable Moments
The best images happen when we least expect them to, which is why XF23mmF1.4 R LM WR features a redesigned internalfocusing mechanism, driven by a fast, near-silent linear motor,for immediate response and precise results. With good timing,fast reflexes,and a little help from XF23mmF1.4 R LM WR.those unpredictable moments will turn into a lifetime of memories.
Total Control Over Every Element
XF23mmF1 .4 R LM WR provides incredible optical performance. This is thanks to two aspherical and three ED elements used in its construction . plus its F1.4 maximum aperture – created by nine rounded iris blades -that allow for pinpoint focus and smooth background bokeh. A large manual focusing ring provides further assurance that every element of the image-making process is under complete and total control.
A Continued Standard of Excellence
At a weight of 380g and length of 77.8mm XF23mmF1.4 R LM WR underscores Fujifilm' s continuing mission to create compact and lightweight X Series cameras and lenses. Beautifully engineered to withstand the demands of day-to-day use, XF23mmF1.4 R LM WR blends a durable,all-metal construction with practical touches, like a 58mm filter and a close focusing distance of 19cm, to bring a versati le solution for street, documentary , and wedding photographers alike.
Make Any Moment a Masterpiece
Making the most of moments is the hallmark of any great image-maker. Regardless of whether the sun is shining, or whether the heavens are starting to open up when used with our weather -resistant X Series cameras . XF23mmF1 .4 R LM WR is ready to turn any inclement situation into a potential masterpiece. Weather-resistant seals throughout the lens' construction repeldust and moisture,allowing itto perform effortlessly down to -10° C Simply put,the elements should not get in the way of your next great image.
Fujinon XF33mm F1.4 R LM WR
Simply the Best
Passionate image makers are constant ly looking for ways to make the most of the best light and the perfect subject . With its unmatched opticalquality and ability to resolve details up to 40 megapixels, XF33mmF1.4 R LM WR is poised to deliver vibrant, true-to-life colors, minimal optical aberrations, and outstanding detail in those rare moments where passion meets perfection.
Focused on Performance
XF33mmF1.4RLMWR may be the first X Mount lens to have exactly the same equivalent field of view as a50mm lens, but it certainly won' t be the last one to perfectly blend optical engineering with cutting edge technology. Ready to document events and scenes as they unfold, XF33mmF1.4 R LM WR is equipped with a powerfully accurate linear motor to ensure that images are always in focus and creativity is never suppressed. Fast, near silent, and unerringly accurate, this lens effortlessly performs to keep any image maker in the moment, no matter how brief it is.
Precision When lt's Needed
Minimal focus breathing, precise manual focus , and wonderfully blurred backgrounds make X F33mmF1.4 R LM W R a perfect choice for videographers who need wide apertures for low-light situations or to create separation between subject and background. Manual focusing is easily controlled, thanks to a mechanism that delivers near-perfect precision down to a minimum object distance of 30cm.
Unmatched Quality Featuring
15 elements in 10 groups -including two aspherical and three ED elements -XF33mmF1.4 R LMWR is engineered to provide optimum quality and unparalleled color accuracy,with minimal coma and chromatic aberration.This ensures unmatched resolution and fresh, vibrant color.
Engineered for Every Eventuality
Weighing just 360g and measuring 73.5mm in length, XF33mmF1.4 R LM WR is easy to handle,simple to use,and beautifully balanced for any X Series camera.Its gorgeously constructe'd from its aperture and manual focusing rings to its all-metal construction and is built to withstand dust, moisture,and temperatures as low as-10°C when used with a weather-resistant X Series camera, to keep creative doors open when nature tries to keep them closed.
Full GFX50SII Full Specs