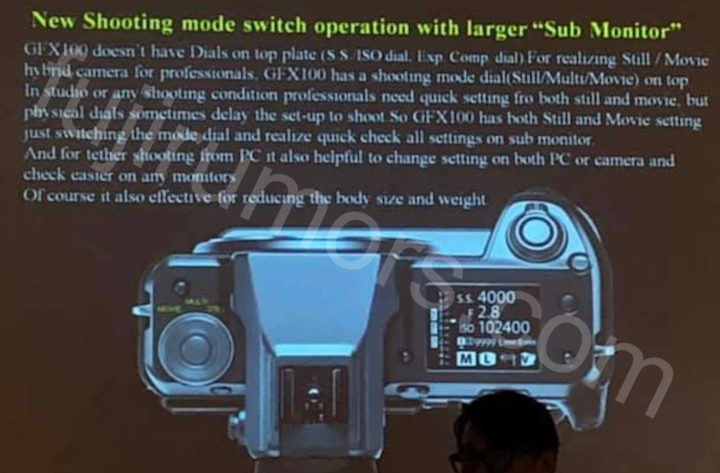 Fujifilm GFX100
The Fujifilm GFX100 removed all dedicated dials except for one "Shooting Mode Dial", which will allow you select between stills, multi or movie mode.
We had a huge debate about the Fuji GFX100 dial removal here on Fujirumors (includes a poll) and mostly people were not happy at all about it, because they feel that dials and retro-controls are part of the X series DNA.
Well, it seems that Fujifilm was not insensible to the mostly negative feedback that came from the FujiRumors community and they now felt the need to explain why they removed the dials. Check the "new shooting mode switch operation" section below.
I will add all the screenshots to all the media slides below, but I also write them all down here on FujiRumors, just in case you are watching this on a smartphone and you don't want to open the slides and keep up zooming in and out to read them… we like to take care of our readers here on FujiRumors ;).
You will also find the hands on images by dpreview, who also said:
textured finish similar to that used on the GFX 50S
integrated grip provides more space for shutter mechanism and IBIS
about the size of Nikon D5 or Canon EOS-1DX II – comparison here
lacks the retro-style dials
large 3-position dial on the left is used to switch the camera between movie, stills and multiple exposure modes
'drive' button at its center
large top screen won't make miss the large shutter speed and ISO dials of its predecessor too badly
EVF clarity and resolution excellent. Free from the pixelation and noticeable lag which affected the finder of the 50S
viewfinder unit is removable, but when the GFX 50S finder is attached to the GFX 100, they won't get the benefit of the greatly improved resolution of the newer EVF
all-new OLED ribbon display on the back, below the main LCD will serve to show the status of key camera settings
tilt and touch screen
While the main shutter dial has an on/off switch collar, the same control on the secondary shutter release serves to lock/unlock the button
Battery life: ~400 shots (CIPA) per single charge
dual SD-card slot
next-generation XQD/CFexpress media in the GFX 100 is being discussed for future products in the GFX lineup
microphone and headphone jacks, plus HDMI and USB, courtesy of a USB 3.0 Type C port
possible to charge the GFX 100 over USB
4K/30, 10bit, 4:2:0 video internally and 10bit 4:2:2 externally via HDMI
GF 45mm F2.8 delivered plenty of sharp images at 1/20sec and a couple of acceptably sharp shots at shutter speeds as low as 1/6sec
GFX 100 could support sensor-shift features in future [already rumored on FujiRumors]
AF speed appears very good, and certainly greatly improved over the original GFX 50S
available on-time, in late spring or early summer.
price around $10,000
Follow FujiRumors on Facebook, Instagram, RSS-feed and Twitter
GFX Zones
Media Slides