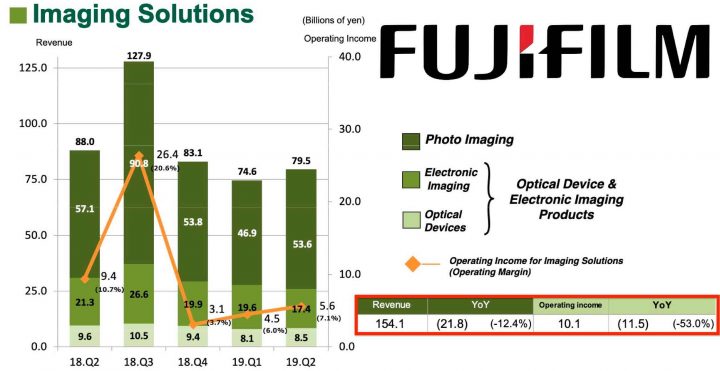 Fujifilm Fiscal Year Report
Canon, Nikon, Olympus, Sony and others have already reported their financial results.
Most of them are devastating bad. Sony is doing best, even though even Sony has to record a -3,4% sale decrease.
And Fujifilm?
Well, Fujifilm now published their financial results for the this quarter (ends September 30, 2019) and the numbers are not good either*.
Fujifilm's cashcow Instax keeps slowing down, and digital camera sales suffer strong. All this results in a revenue decrease for the imaging division of 12.4%.
But Fujifilm remains optimistic and says:
we will further enhance the sales by providing products with competitive advantages utilizing our unique technologies, and by running effective promotions to achieve a performance target.
The only camera Fujifilm mentions clearly positively, is the Fujifilm GFX100, which enjoyed "strong sales". And that must be right, since 6 months after announcement, the camera is still hard to find on the market.
FujiRumors recommends:
Dear Fujifilm, do you know that plan not to release any Fujifilm X-H2 not even in 2020? Forget that! Give us the Fujifilm X-H2 now with Samsung/Fujifilm ISOCELL+ sensor technology, and you'll see the numbers go positive again. And a Fujifilm X-T4 with IBIS could help, too! Hurry up!
Fujifilm GFX 100: B&H Photo, AmazonUS, Adorama, Focuscamera
* As it always leads to confusion, we remind fellow readers that the Japanese fiscal year 2020 is divided as follows:
   – 1st quarter: April to June 2019 (revenue down 15%)
   – 2nd quarter: July to September 2019 (revenue down 12.4%)
   – 3rd quarter: October to December 2019 (to be determined)
   – 4rd quarter: January to March 2020 (to be determined)
REPORTS SUMMARY