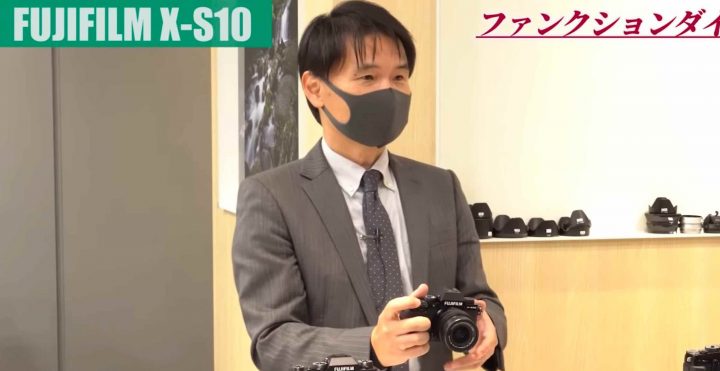 The Japanese youtube channel カメラのキタムラ had a chat with a Fujifilm manager.
The talk gravitates around the Fujifilm X-S10, and quite frankly 90% of what is said is stuff you already know. Here we highlight a few things that we consider more interesting.
The Mode Dial
One of the things we wanted to do was "custom position", which is available from C1 to C4
we don't hate mode dials
The X-S10 is a "gate camera" for those who enter the X system. A mode dial for simply operation was adpoted for that reason
The mode dial with C-positions is actually like going back to the roots for the Fujifilm X series, as Fujifilm's second X series camera ever had already one and it continued with its successor.
If you ask me, bringing it back in what is probably the best value for money mid-range camera on the market, is an extremely smart and urgently needed move. We need more folks to join the X club, and the X-S10 could serve this purpose very well.
Film Simulations + Auto Mode
It is no exaggeration to say that the first reason for wanting to use a Fujifilm camera is film simulation
By pressing the Q button after displaying the film simulation with the function dial, an explanation of that film simulation will appear
An increasing number of younger generations of photography enthusiasts have never shot on film
New SP mode will record also RAW and select everything for you, inlcluding film simulation
The Rise of Vary-Angle Screens (selfie screens)
Fujifilm is not trying to put vary-angle screens on every camera
Each camera has its own personality, and Fujifilm chooses whether to implement a selfie screen depending on the main shooting purpose
The 3-axis tilt LCD monitor works effectively for still image shooting, so Fujifilm thinks it will continue to be effective for cameras that focus on still images
In my opinion a 3-way tilt screen is superior also for video shooters. The only advantage of fully articulating screens, is if you want to take selfie images or film yourself.
You can read the full summary of the interview in Japanese here (google translated).
Follow FujiRumors on Patreon, Facebook, Instagram, RSS-feed, Youtube, Flipboard and Twitter
Video Below