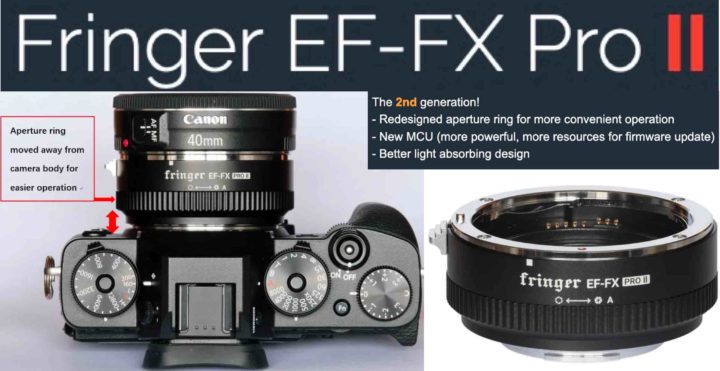 Fringer EF-FX Pro II
Fringer just released the Fringer EF-FX Pro II autofocus smart adapter for pre-order.
Main improvements of the 2nd generation of EF-FX Pro include
Redesigned aperture ring for more convenient operation
New MCU (more powerful, more resources for firmware update)
Better light absorbing design
The price is $299 + $25 (worldwide expedited shipping included. tax/duty not included). Fringer will begin to ship it before May 11.
The functions and performance of gen1 and gen2 are the same.
So far only the Fringer EF-FX Pro II is released. The non-Pro version is still available only in its first generation. In future, the functional firmware update for gen1 and gen2 will be released at the same time as long as the resources of gen1 are enough to support that.
For more details about the Fringer EF-FX Pro II check out Fringer website here.
The Fringer EF-FX Pro II is open for pre-order now at Fringer store.
You can read customer reviews for the Fringer EF-FX Pro version 1 at AmazonUS here and Amazon US here.
Rumors and Discussions

Stay in the Loop

Follow FujiRumors on Facebook, Youtube, Instagram, RSS-feed and Twitter