Sony A7000 coming soon: with RGBW + New Backlit sensor for Best in class low light performance! – X-PRO2 specs?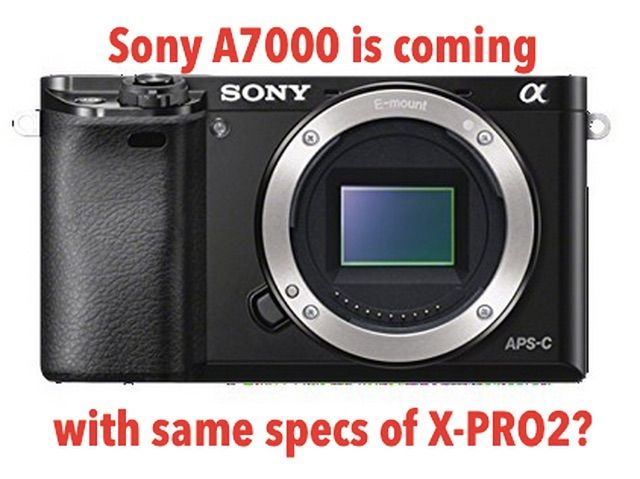 PREFACE
1) Current APS-C Fuji cameras feature a Sony sensor (with special Fuji X-Trans design).
2) Fuji can use the latest generation of Sony sensors only about half a year after Sony itself implemented it in one of their cameras.
3) Therefore, any Sony A7000 sensor rumor could potentially be interesting also for the X-PRO2
4) No rumor until now says, that Fuji is going to use the Sony A7000 sensor for their X-PRO2
The Rumor
Ok, then let's talk about the rumor SonyAlphaRumors just shared. According to the rumor of SAR, the Sony A6000 successor will hit the market soon…. very soon, maybe on the first half of September.
And here are the sensor specs:
– Best in class low light performance (backlit sensor and RGBW pixel array)
– internal 4k video recording with full sensor readout in 60fps
– extremly fast autofocus system
There is a Sony press-release of 2012 that explains how the RGBW Coding works.
The built-in "RGBW Coding" function which adds W (White) pixels to the conventional range of RGB (Red-Green-Blue) pixels has realized higher sensitivity, enabling high-quality shooting with low noise even in dark indoor or night settings. While the addition of W (White) pixels improves sensitivity, it has the problem of degrading image quality. However, Sony's own device technology and signal processing realizes superior sensitivity without hurting image quality.
Also a Fuji patent of 2012 shows a sensor with enlarged green and white pixels (see here). So Fujifilm at least investigated the possibility to make it. If it will become true soon, we will see.

CONCLUSION
– If it's true, that the X-PRO2 will feature the same sensor of the A7000 (just with special X-Trans array)
– If it's true, that Fuji has to wait about half a year before being able to use that sensor
– If it's true that the A7000 will be announced early September
then this means that the Fuji X-PRO2 could hit the market around February/March.
stay tuned,

Fuji X Forum, Facebook, Google+, RSS-feed and Twitter