Pete Souza, Obama's White House Photographer, Uses Fujifilm X-Pro2 and XF23mmF1.4… and also Carlos Saura Shoots Fujifilm! – UPDATE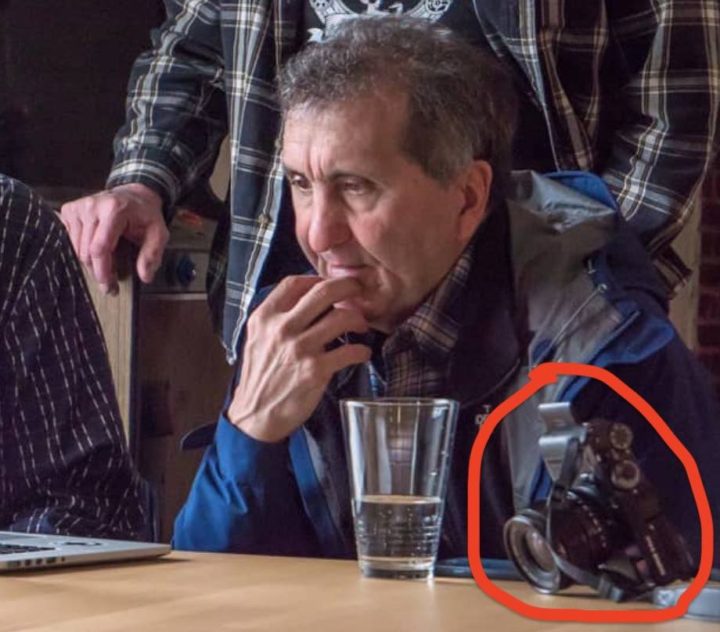 Pete Souza and Fujifilm
Pete Souza, one of the most famous and talented photographers of our times, not least because for 8 years he was the official White House photographer of former president Obama, has now been spotted with a Fujifilm X-Pro2 and XF23mmF1.4 at camerabits Instagram page.
"The Camera Bits Team had a lovely time today talking workflow with the talented photojournalist @petesouza! Here you can see Camera Bits founder and President Dennis Walker with Pete going through his Photo Mechanic workflow."
For long term FujiRumors readers, this won't really come surprising, as we already reported in this 2016 roundup about what's inside Pete's bag, and at that time he was carrying around a lovely Fujifilm X100S, along with a Canon 5D Mark III with Canon 135mm f/2.0 L, Canon 35mm f/1.4 L and Canon 24-70 F/2.8 L II.
And check out @petesouza Instagram to see more of his images (including X-Pro2 pics).
Now he seems to have added the X-Pro2 and 23mmF1.4 to his camera bag…. and there is also a Sony A9 I believe on the same table.
UPDATE: Also White House assistant director Chuck Kennedy used Fujifilm X-Pro2 to photograph Obama. Story here at samuel-zeller.
A Sign of Things to Come?
A superfamous photographer, a Sony and a Fujifilm, all on the same table. Maybe a symbol of what's to come in the next 3/4 years: a massive exodus of professional photographers from DSLRs to mirrorless, with Fujifilm and Sony leading the market… or maybe not, time will tell :) .
Carlos Saura
But there is more :)
Carlos Saura (wikipedia), a highly awarded film director, writer and photographer, now uses also Fujifilm (X-T1 and X100). In this 4:41 minute video, he will show you his impressive collection of camera and give you a glance behind the scenes of the creation of his latest photography book.
Magnum
We already told you about this project back in October 2017 in this GFX roundup here, but since it fits with this article, I thought to give you guys a reminder.
15 Magnum Photographers will explore the theme of "HOME" for the project. All shot with Fujifilm GFX. Photo exhibitions to take in 7 cities worldwide starting from March. More at home-magnum.
The content is continously updated, so check back the link now and then. They also have a dedicated youtube channel for the project, so feel free to check that one out too.
Welcome to the Fuji X Club… to All of You :)
I doubt Peter Souza and Carlos Saura know of the existence of this little space on the web called FujiRumors, but either way, I would like to welcome these two impressive photographers to the Fuji X Club.
It's an honour to have you guys on board of the Fujifilm journey :).
But I must also add… when a few months ago I was able to convince a good friend to switch to Fujifilm, I had the same joy that I feel when I see Beyoncé, Annie Leibovitz, Ara Güler or any other well-known person owning Fujifilm cameras. And when last summer I casually met a Fujifilm wedding photographer (and FR-reader) at work, it was one of my best "blogger moments" of 2017.
Famous or not, for me it's an honour to serve every single one of you guys, who one day decided to try out the Fujifilm system and now chooses to stop here at FujiRumors and to be part of this amazing community. My heart and soul (and tons of time) goes into this blog, and I will always give my best to honour your partecipation as good as I can.
And if you are curious to know which other celebrities own Fujifilm gear, then check out this forum thread… you might be surprised :) .
OUR COMMUNITIY
FujiRumors Communities: FujiRumors Facebook, FujiRumors Twitter, FujiRumors Instagram
Our Facebook groups: Fujifilm X-T User Group, Fujifilm X-Pro User Group, Fujifilm X-E User Group, Fujifilm GFX Group, Fujifilm X100 line Group, Fujifilm X-H (IBIS camera) Group