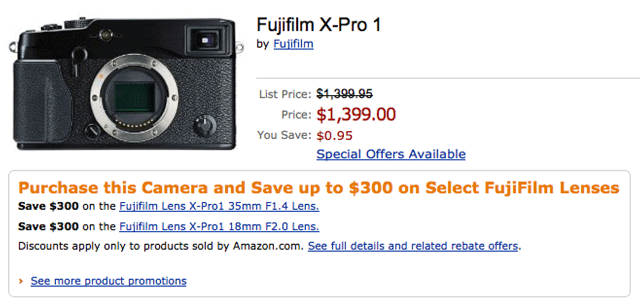 And here it is our great Fuji Cyber Monday double deal!
1) $300 rebate on the purchase of the X PRO 1 body at Amazon (Click here), Adorama (Click here), BHphoto (Click here) and on many eBay US stores (via Slidoo).
2) And you save other $300 if you purchase a lens. That makes a total of $600 savings! See that offer at Amazon (Click here) and BHphoto (Click here).
PS.: take advantage of the new VIP benefits of Adorama, like the extended warranty for one year on all your purchases. Now for a limited time the registration is free!
PPS.: For everyone waiting for the XF 14mm f/2.8 lens to come: B&H expected availability is for January 31! (click here to see and preorder).
—
Reminder: Keep an eye on all daily changing deals here: Amazon (cameras), Amazon (all stuff), Adorama, Bhphoto, J&R, TigerDirect, Bestbuy and eBay.