Oops I did it Again: I Bought my Dream Lens and Here is Why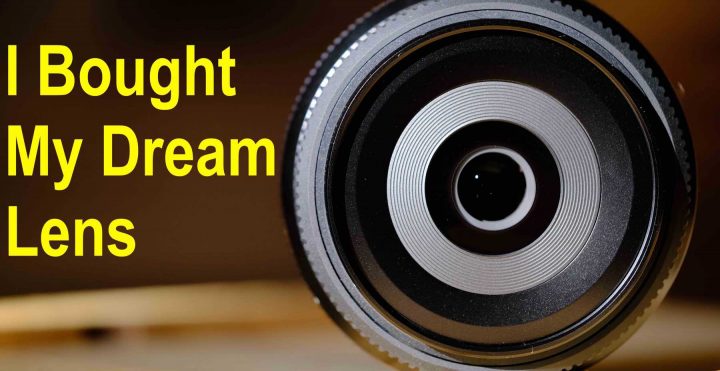 I Failed
I tried, but I failed.
And I failed in less than 48 hours.
I am afraid too many of you guys know what I talk about: try to resist to G.A.S!
It all started February 1st, when Fujifilm launched new deals here in Italy (and all over Europe). And to my surprise, the deals included one of my top 3 Fujifilm items on my 2022 wishlist.
Less than 48 hours after the launch of deals, I found myself at my local photography store, my credit card flying over the sales counter and in my bag a box containing the Fujinon GF50mmF3.5.
And don't worry, my wife approved this purchase… now all I need is her to approve also my other two Fuji-dreams gear 2022, meaning this camera and this lens ;).
I am Happy I Failed :)
Here is why I bought it, and I am so excited about this lens.
As you know, last year I bought into the Fujifilm GFX system by treating myself with a Fujifilm GFX100S and Fujinon GF32-64mmF4.
My main application for this wonderful combo is landscape photography.
So how is that working out?
Well, my go-to bag for hiking is my Camslinger Outdoor. I love the practicality of it to a point, that I won't buy gear (for landscape photography) that does not fit in there. And despite having a sensor about 70% larger than full frame, the GFX100S with GF32-64mmF4 still fits!
So, for me, this combo is compact enough, and I can easily make my usual 4 to 6 hours hike with the GFX100S and GF32-64 on my hips.
Why do I say this?
Because I want to make clear that I don't perceive the GFX100S with GF32-64 as too big for the purpose of landscape photography, especially considering what it is: a 100 megapixel medium format system that I can carry around all day on my hips. It's frankly amazing.
But while it is a surprisingly compact combo for the purpose of landscape photography, the GFX100S combined with the GF32-64mmF4 is not small enough for my taste to bring it with me for more casual shooting, may it be for my street photography or to document my family life.
By getting the Fujinon GF50mmF3.5, though, the whole combo gets substantially smaller and lighter, making it much more portable and easier to pick also for casual photography.
And to be clear: my well-equipped APS-C system is and remains king when it comes to flexibility, performance and value for money. I still take my X system with me on hikes, on my travels, on my day trips with family and I also blindly trust it in crucial moments like when I had to photography my first wedding.
But owning the GF50mmF3.5 simply gives me more options and opportunities to pick up my GFX100S more often if I want to.
I am very happy with my purchase and I can't wait to use use it comprehensively starting with this weekend.
We (my family and me) are probably going to the town of Sirmione this Saturday. I have never been there and can't wait to test my new lens in such a wonderful little lake town.
Sieh dir diesen Beitrag auf Instagram an
Sieh dir diesen Beitrag auf Instagram an
Sieh dir diesen Beitrag auf Instagram an
Sieh dir diesen Beitrag auf Instagram an
Sieh dir diesen Beitrag auf Instagram an