On January 15th Fuji will launch the X-Pro2… without 4K video – Trusted Japanese Source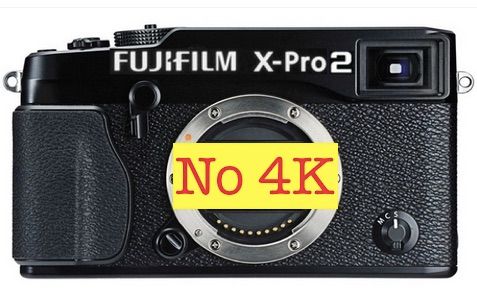 4K or no 4K? That is the question!
As you might remember, Fujifilm itself (via Sales Manager Makoto Oishi) said back in March here, that current X-TransII cameras cannot deliver 4K video, because "the sensor itself should have much faster reading speed", but that 4K is definitely something they are working on for future models with new sensor and faster reading speed.
And Fuji indeed worked and is working on it. But, unlike rumored earlier, the 4K technology is apparently not yet ready for the X-Pro2.
In fact, the Top Trusted Japanese source told me that the X-Pro2 will not feature 4K video at its launch, on January 15.
Ok, after reading this rumor I feel…. say it in the comments.
stay tuned,

Fuji X Forum, Facebook, RSS-feed and Twitter
BIG US X SALE
XF Lenses
XF90mm (save $150): AmazonUS / BHphoto / Adorama / [shoplink 40099 ebay]eBay[/shoplink]
XF10-24mm (save $150): AmazonUS / BHphoto / Adorama / Pictureline /
XF14mm (save $150): AmazonUS / BHphoto / Adorama / Pictureline /
XF27mm (save $150): AmazonUS / BHphoto / Adorama / Pictureline /
XF35mmF1.4 (save $150): AmazonUS / BHphoto / Adorama / Pictureline /
XF60mm (save $150): AmazonUS / BHphoto / Adorama / Pictureline /
XF16mm (save $200): AmazonUS / BHphoto / Adorama / Pictureline / [shoplink 40100 ebay]eBay[/shoplink] XF18mm (save $200): AmazonUS / BHphoto / Adorama / Pictureline /
XF23mm (save $200): AmazonUS / BHphoto / Adorama / Pictureline /
XF56mm (save $200): AmazonUS / BHphoto / Adorama / Pictureline /
XF16-55mm (save $200): AmazonUS / BHphoto / Adorama / Pictureline / [shoplink 40101 ebay]eBay[/shoplink] XF50-140mm (save $200): AmazonUS / BHphoto / Adorama /
XF18-55mm (save $200): AmazonUS / BHphoto / Adorama / Pictureline /
XF18-135mm (save $200): AmazonUS / BHphoto / Adorama / Pictureline /
XF55-200mm (save $200): AmazonUS / BHphoto / Adorama / Pictureline /
XF 56mm APD (save $400): AmazonUS / BHphoto / Adorama / Pictureline /
X series Cameras
X-Pro1 + 23mm + 27mm (save $900): Adorama / BHphoto/ AmazonUS /
X-T1 (save $300): AmazonUS / BHphoto / Adorama / Pictureline /
X-T1 GS (save $300): AmazonUS / BHphoto / Adorama / Pictureline /
X-T1 + 18-55 (save $300): AmazonUS / BHphoto / Adorama
X-T1 + 18-135 (save $300): AmazonUS / BHphoto / Adorama / Pictureline
X100T (save $200): AmazonUS / BHphoto / Adorama / Pictureline /
X-T10 (save $100): AmazonUS / BHphoto / Adorama
X-T10 + 18-55 (save $100): AmazonUS / BHphoto / Adorama
X-T10 + 16-50 (save $100): AmazonUS / BHphoto / Adorama
X-T10 + 18-55 + 55-200 (save $400): AmazonUS / BHphoto / Adorama
X-T10 + 16-50 + 50-230 (save $300): AmazonUS / BHphoto / Adorama
X-E2 (save $100): AmazonUS / BHphoto / Adorama / Pictureline /
X-E2 + 18-55 (save $100): AmazonUS / BHphoto / Adorama / Pictureline
X30 (save $100): AmazonUS / BHphoto / Adorama / Pictureline /
X-A2 body or kit (save $50): AmazonUS
Fujifilm X-Pro2 Rumored Specs
TRUSTED
– APS-C sensor (TS + AS + AS)
– 1/8000 of a second mechanical shutter speed (TS + AS)
– Joystick for quick AF-point slection (TS)
– Exposure Compensation Dial with "C" function for exp.comp from +5 to -5) – (TS)
– Combined ISO/Shutter dial, with little window on shutter dial to show ISO value (TS + SRP)
– coming late 2015 (TS + AS)
– delayed to 2016 (TS)
– Coming after CES (TS)
– Announcement on 15th Janaury 2016 (TS)
– weather sealed (TS)
– 4K video (TS + NeS)
– No 4K for the X-Pro2 in Jan. 15 (TS)
– Faster Processor EXR III (TS)
– No Tilt Screen (TS + AS)
SOURCE RIGHT IN THE PAST
– Sync Speed faster than 1/180th (SRP)
– coming in January 2016 (SRP)
NEW / ANONYMOUS SOURCE
– ISO200-12800 (AS)
– 1/250 flash sync speed (AS)
– more than 200 AF points (2/3 are PDAF) – (AS)
– Hybrid EVF as X100T (AS)
– 24MP sensor (AS + AS) – More than 16MP (AS)
– about the same size of current X-PRO1 (NeS)
– dual SD card slot (NeS + AS + AS)
– tilt screen (AS)
– WiFi (AS)
– Price about 20% to 30% more expensive than the X-T1 (AS)
– Two X-PRO2 version, one 24MP APS-C and one 25-27 MP APS-X, compatible with XF/XC lenses (NeS + OS)
OTHER SITES
– coming September / October (OS + OS)
– Non organic APS-C X-Trans sensor (OS)
– smaller than X-PRO1 (OS)