Fujifilm X-Pro2: Joystick + Exposure Compensation Dial with "C" function – Trusted Source
After the leak by a source, who was right in the past, that the Fujifilm X-Pro2 would have a Pentax Spotmatic alike combined ISO/Shutter dial, I immediately contacted some trusted sources to get it confirmed (or not).
aaand…. the first feedback just landed in my Inbox :-)
A Trusted source confirms the elegant Pentax Spotmatic ISO/Shutter dial solution but also said that there will be more nice changes to what belongs the Fujifilm X-Pro2 ergonomics.
According to this source, the Fujfilm X-Pro2 will also have a Joystick for quick AF point selection, like you can find it on many DSLR's as the Canon 5D MK III.
And more: there will be an nice change also on the Exposure Compensation Dial. While the dial will still go from -3 up to +3, Fuji added the letter "C" on it, which will allow you to adjust the exposure from -5 to +5.
I start to fall in love… and you?
stay tuned,

Fuji X Forum, Facebook, RSS-feed and Twitter
[wysija_form id="1″]
Pentax Spotmatic alike combined ISO/Shutter dial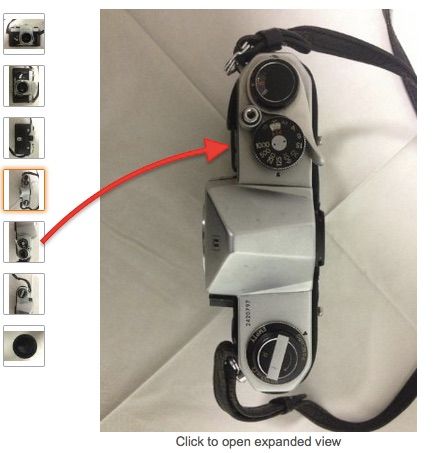 BIG US X SALE
XF Lenses
XF90mm (save $150): AmazonUS / BHphoto / Adorama / [shoplink 40099 ebay]eBay[/shoplink]
XF10-24mm (save $150): AmazonUS / BHphoto / Adorama / Pictureline /
XF14mm (save $150): AmazonUS / BHphoto / Adorama / Pictureline /
XF27mm (save $150): AmazonUS / BHphoto / Adorama / Pictureline /
XF35mmF1.4 (save $150): AmazonUS / BHphoto / Adorama / Pictureline /
XF60mm (save $150): AmazonUS / BHphoto / Adorama / Pictureline /
XF16mm (save $200): AmazonUS / BHphoto / Adorama / Pictureline / [shoplink 40100 ebay]eBay[/shoplink] XF18mm (save $200): AmazonUS / BHphoto / Adorama / Pictureline /
XF23mm (save $200): AmazonUS / BHphoto / Adorama / Pictureline /
XF56mm (save $200): AmazonUS / BHphoto / Adorama / Pictureline /
XF16-55mm (save $200): AmazonUS / BHphoto / Adorama / Pictureline / [shoplink 40101 ebay]eBay[/shoplink] XF50-140mm (save $200): AmazonUS / BHphoto / Adorama /
XF18-55mm (save $200): AmazonUS / BHphoto / Adorama / Pictureline /
XF18-135mm (save $200): AmazonUS / BHphoto / Adorama / Pictureline /
XF55-200mm (save $200): AmazonUS / BHphoto / Adorama / Pictureline /
XF 56mm APD (save $400): AmazonUS / BHphoto / Adorama / Pictureline /
X series Cameras
X-Pro1 + 23mm + 27mm (save $900): Adorama / BHphoto/ AmazonUS /
X-T1 (save $300): AmazonUS / BHphoto / Adorama / Pictureline /
X-T1 GS (save $300): AmazonUS / BHphoto / Adorama / Pictureline /
X-T1 + 18-55 (save $300): AmazonUS / BHphoto / Adorama
X-T1 + 18-135 (save $300): AmazonUS / BHphoto / Adorama / Pictureline
X100T (save $200): AmazonUS / BHphoto / Adorama / Pictureline /
X-T10 (save $100): AmazonUS / BHphoto / Adorama
X-T10 + 18-55 (save $100): AmazonUS / BHphoto / Adorama
X-T10 + 16-50 (save $100): AmazonUS / BHphoto / Adorama
X-T10 + 18-55 + 55-200 (save $400): AmazonUS / BHphoto / Adorama
X-T10 + 16-50 + 50-230 (save $300): AmazonUS / BHphoto / Adorama
X-E2 (save $100): AmazonUS / BHphoto / Adorama / Pictureline /
X-E2 + 18-55 (save $100): AmazonUS / BHphoto / Adorama / Pictureline
X30 (save $100): AmazonUS / BHphoto / Adorama / Pictureline /
X-A2 body or kit (save $50): AmazonUS
Fujifilm X-Pro2 Rumored Specs
TRUSTED
– APS-C sensor (TS + AS + AS)
– 1/8000 of a second mechanical shutter speed (TS + AS)
– Joystick for quick AF-point slection (TS)
– Exposure Compensation Dial with "C" function for exp.comp from +5 to -5) – (TS)
– Combined ISO/Shutter dial, with little window on shutter dial to show ISO value (TS + SRP)
– coming late 2015 (TS + AS)
– delayed to 2016 (TS)
– Coming after CES (TS)
– Announcement on 15th Janaury 2016 (TS)
– weather sealed (TS)
– 4K video (TS + NeS)
– Faster Processor EXR III (TS)
– No Tilt Screen (TS + AS)
SOURCE RIGHT IN THE PAST
– Sync Speed faster than 1/180th (SRP)
– coming in January 2016 (SRP)
NEW / ANONYMOUS SOURCE
– ISO200-12800 (AS)
– 1/250 flash sync speed (AS)
– more than 200 AF points (2/3 are PDAF) – (AS)
– Hybrid EVF as X100T (AS)
– 24MP sensor (AS + AS) – More than 16MP (AS)
– about the same size of current X-PRO1 (NeS)
– dual SD card slot (NeS + AS + AS)
– tilt screen (AS)
– WiFi (AS)
– Price about 20% to 30% more expensive than the X-T1 (AS)
– Two X-PRO2 version, one 24MP APS-C and one 25-27 MP APS-X, compatible with XF/XC lenses (NeS + OS)
OTHER SITES
– coming September / October (OS + OS)
– Non organic APS-C X-Trans sensor (OS)
– smaller than X-PRO1 (OS)