Nissin Announces Air 10s Advanced Wireless TTL Strobe Commander also for Fujifilm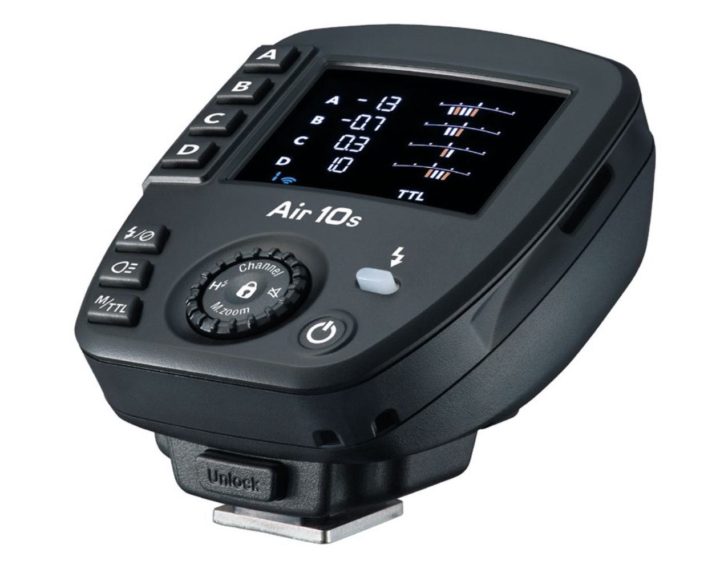 NISSIN PRESS RELEASE
Nissin just released a Press Release that might be of interest for Fuji Strobist :)
Full Press Release below:
The New Standard – Nissin Air10s. An advance 2.4Ghz wireless TTL strobe commander
Nissin Japan Limited (Chairm an Mr. Goto Chikara) proudly announces the Air10s, an advance NAS (Nissin Air System) 2.4Ghz Wireless TTL commander for Fujifilm, Sony, Micro Four Thirds, Canon  and Nikon cameras, available in April 2017.
The Air10s is an advanced strobe commander in the N.A.S., Nissin Air System*1. The simple and clear dial layout with Color LCD display allows the user to seamlessly and quickly
control a large group of strobes from a dark indoor studio, to a bright outdoor environment. It can control the NAS Ready strobes (i60A and Di700A) and the receiver Air R wirelessly.
Sustainable performance – easily updated via a Micro SD card slot
The Air10s has been equipped with a Micro SD card slot that allows users to update the device easily by themselves. Nissin plans on putting a Micro SD card slot on all future strobes and commanders.
Expand the creativity boundary –Control your strobes up to 100 meters*2
The device's range of use has been greatly extended (when compared to older models) to a maximum distance of 100 meters, and the TTL Mode, high speed sync (FP sync) supporting up to 1/8000 High-speed shutter speed, rear curtain, and other functionalities can be controlled remotely.
Finest adjustment –supporting 1/3EV step in TTL flash exposure correction, and the smallest output down to 1/256*3
Used under the TTL mode, minimal adjustments are possible with just 1/3EV step. In addition, under manual mode, the device supports the lowest power adjustment down to 1/256, which comes in handy for highly sensitivity shoots.
Instant strobes setup – Manual output power instantly transform from TTL exposure data
The de vice has a "TTL Memory Function", which memorizes the exposure during a TTL Mode shoot, and allows for a one-touch switch to manual mode. You can save time during the strobes setup as the device takes the TTL exposure data, calculates the individual output internally, and transforms the exposure data into manual mode for advance adjustment.
Set your group of strobes free – The Open Mode*4 allowing multiple Air10s to pair with the same group of strobes
The "open mode" allows for multiple Air10s units to pair with the same group of strobes. This means, the need to re-pair devices is eliminated, and even if cameras are changed, the same settings can be used as the shoot continues. This convenient functionality allows multiple cameras and commanders to share a same group of NAS strobes.
Crossover control – Full Control of Different versions of NAS Strobes
Even if your Air 10s is for Sony Mount, it is possible to pair it with Canon, Nikon and other differing version of NAS strobes (i60A, Di700A), and you can retain use of all the functions, including TTL Mode(Applies to the other type of Air10s versions as well).
*1 NAS stands for Nissin Air System, a proprietary wireless TTL communication system developed by Nissin for 2.4GHz radio  transmission that allows for stable operation of slave strobes in outdoor or environments that may have other disturbances.  Devices are paired beforehand to ensure  stable communication with each other, and to avoid signals from getting mixed up, 8 channels have been set up, providing a secure communication environment.
*2 For Canon Mount devices that are set to Mode II, the rear curtain sync function cannot be used.
*3 Only supported on i60A. When the device is paired with Di700Aor AirR, the TTL is -2.0~2.0EV, 1/2EV step, in Manual it is 1/1 – 1/128, 1EV step.*4 When using in Open Mode, the NAS strobe's firmware needs to be updated.
【Product Information】
Product name: Nissin Air10s
SRP: 170 USD
Release Date: Different versions of Air10s will sequentially introduce to the market from April 2017
【Specifications】
The Air10s specification and model design are subject to change before the release date without prior notice.
Type: For Canon, Nikon, Sony, Four Thirds and Fujifilm Systems
Compatible Strobe: I60A, Di700A
Compatible Receiver: Air R
Wireless system: Radio category
Radio specifications: 2.4GHz ISM band (Obtaining technical standards conformity certification)
Communication: Pairing is needed before the use of Air10s
Channel: 8 channels
Flash Groups: A, B, C, D & Ȧ, Ḃ, Ċ, Ḋ (total 8 Groups)*5 (Group control and a specific group can be choosen to stop transmitting)
Power Source: 2 x AAA batteries
Continuous shooting speed: 10 shots/sec
Number of flashes per charge: Approx. 3,000 flashes
Transmission distant: Max. 100m (Depending on the environment)
Mode: [TTL] i – TTL (Nikon) / E-TTL II / E-TTL (Canon) [manual]/ ADI/ PTTL (Sony) / TTL (Fujifilm) / TTL (Micro Four Thirds/ Four Thirds)
Manual zoom: Manual adjustment (24/ 35/ 50/ 70/ 85/ 105/ 135/ 200 mm)
EV compensation on flash: [TTL] – 2.0 ~ + 2.0, 1/3 EV step, each group can be adjusted independently or synchronized
Synchronization modes: Color LCD with dial control
Manual mode power ratio: 1/256 -1/1 with 1/3 step selection, each group can be adjusted independently or synchronized
Synchronization modes: Canon: 1st- Curtain synchronization, 2nd – Curtain synchronization, High – speed synchronization, FE Lock and FV Lock (set on camera). Nikon: 1st – Curtain synchronization, Rear Curtain synchronization, High-speed synchronization, Red- eye reduction, Slow synchronization, Sony: 1st-Curtain synchronization, High-speed synchronization, FEL Lock (set on camera) Four Thirds/ Micro Four Thirds: 1st-Curtain synchronization, 2nd-Curtain synchronization, High-speed synchronization, Slow synchronization, Red-eye reducti on (Olympus only) Fujifilm: 2nd Curtain synchronization, Slow synchronization,Red-eye reduction
Other functions: Micro SD card slot (For firmware update), Remote shutter release socket, Modeling light control*5
AF-assist beam range: 0.7 ~ 5m
Operation panel: LCD color panel and select dial
Dimensions: 65(L) x 60 (W) x 60 (H)mm/ 2.6(L) x 2.4(W) x 2.4 (H)inch Weight 73g / 2.5oz (without batteries)
*5 "8 groups" and "modeling light" are functions prepared for Nissin products to be released in the future. It does not correspond to the current model.
via Nissin