eXtended version: Fuji X-deals will run until May 30 … Save up to $400!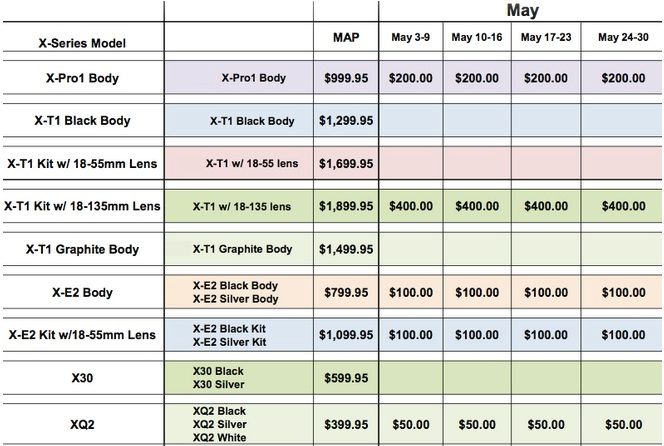 Just a Rumor Flash: A trusted source told me that Fujifilm will eXtend some of the X-deals until May 30. So you still have more time to save $400 on the X-T1 with 18-135 and more. The Fujifilm XQ2 will join the deals with a $50 rebate. All the deals down below.
Note: although not listed in the leaked documents shared here on FR, a lot of other X-gear is still discounted.
SUPER DEALS: X-T1 + 18-135 (save $400) at BHphoto / AmazonUS / Adorama / Pictureline – XF 18-135 (save $300) at BHphoto / AmazonUS / Adorama / Pictureline
HOT BODY DEALS: X-T1 Black Body (save $100): BHphoto / AmazonUS / Adorama – X-T1 Graphite Body (save $100): BHphoto / AmazonUS / Adorama – X-E2 + 18-55 (save $100): BHphoto
HOT LENS DEALS: XF 23mm (save $150): BHphoto / AmazonUS – XF 56mm (save $160): BHphoto / AmazonUS – XF 56mm APD (save $150): BHphoto / AmazonUS / Adorama – XF 50-140mmF2.8 WR (save $100): BHphoto / AmazonUS / Adorama  – XF 18mm (save $200):  AmazonUS – XF 60mm (save $100): BHphoto / AmazonUS  – XF 14mm (save $117): BHphoto / AmazonUS – XF 10-24mm (save $150): BHphoto / AmazonUS / Adorama – XF 27mm (save $50): BHphoto / AmazonUS – XF 35mm (save $100): BHphoto / AmazonUS / Adorama – XF 18-55mm (save $100): BHphoto / AmazonUS / Adorama – XF 55-200mm (save $102): BHphoto / AmazonUS / Adorama