*** RUMOR *** Fujifilm X-T10 will feature a Function Dial (CH, CL, BKT…) instead of ISO-Dial! (New Source)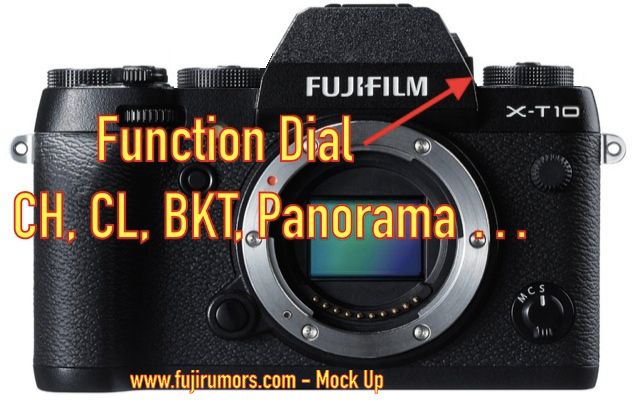 X-T10 rumor update: Thanks to a new source, we now know that, instead of an ISO dial, the Fujifilm X-T10 will feature a function dial! They have basically made a big dial out of the little one under the ISO dial. So you'll still have a dial to set BKT, CH, CL, Double Exposure, Panorama…
HOT MAY: The X-T10 will be announced on May 18. But we should see also a new Kaizen Firmware Update for the X-T1, which is rumored to come in May (maybe 11th of May). So make sure to follow FujiRumors.
100% Fair Trade, 0% Waste, 100% Charity
Fuji X-shirt
get it here in USA and here in Europe & CO.
Learn more here
X-shooters for Nepal: Buy a Print & Help Relief Efforts in Nepal. More here!
take care & stay tuned,

facebook, google+, RSS-feed and twitter
Here is the rumored specs list (TS = Trusted Source / SRP = source right in the past / NeS = New Source)
– Name: X-T10 (SRP + NeS)
– cheaper version of the X-T1 (SPR + NeS)
– announcement in May (SRP)
– announcement Mid-May (TS)
– announcement 18th of May (TS)
– no weather sealing (SRP)
– smaller EVF (SRP)
– same sensor of X-T1 (NeS)
– fast AF [admin: faster than any current X-camera. Probably X-T1 will get firmware update which will bring same AF-speed] – coming late spring/early summer (SRP)
– SLR shape (SRP)
– available in black and silver for the same price (SRP)
– No ISO dial (NeS)
– The kit lens will be an XC lens (NeS)
– EVF size about the same of X-E2 (NeS)
– build in flash (NeS)
– Function Dial instead of ISO dial (NeS)
SUPER DEALS: XF 50-140mmF2.8 WR (save $200): BHphoto  (Use Promo Code BHOPTIC15) / X-T1 + 18-135 (save $400) at BHphoto / AmazonUS / Adorama / Pictureline – XF 18-135 (save $300) at BHphoto / AmazonUS / Adorama / Pictureline
HOT BODY DEALS: X-T1 + 18-55 (save $150): BHphoto (Use Promo Code BHOPTIC15) / X-T1 Black Body (save $100): AmazonUS / Adorama – X-T1 Graphite Body (save $100): BHphoto / AmazonUS / Adorama – X-E2 + 18-55 (save $100): BHphoto / X-E1 + 18-55 (save $70): BHphoto (Use Promo Code BHOPTIC15)
HOT LENS DEALS:  XF 50-140mmF2.8 WR (save $100): AmazonUS / Adorama – XF 23mm (save $150): BHphoto / AmazonUS – XF 56mm (save $160): BHphoto / AmazonUS – XF 56mm APD (save $150): BHphoto / AmazonUS / Adorama – XF 18mm (save $200):  AmazonUS – XF 60mm (save $100): BHphoto / AmazonUS  – XF 14mm (save $117): BHphoto / AmazonUS – XF 10-24mm (save $150): BHphoto / AmazonUS / Adorama – XF 27mm (save $50): BHphoto / AmazonUS – XF 35mm (save $100): BHphoto / AmazonUS / Adorama – XF 18-55mm (save $100): BHphoto / AmazonUS / Adorama – XF 55-200mm (save $102): BHphoto / AmazonUS / Adorama