miXed zone: XF 56mm in stock with freebies, free X-PRO1 guidebook, Samyang 8mm II review and more
[shoplink 25372 ebay]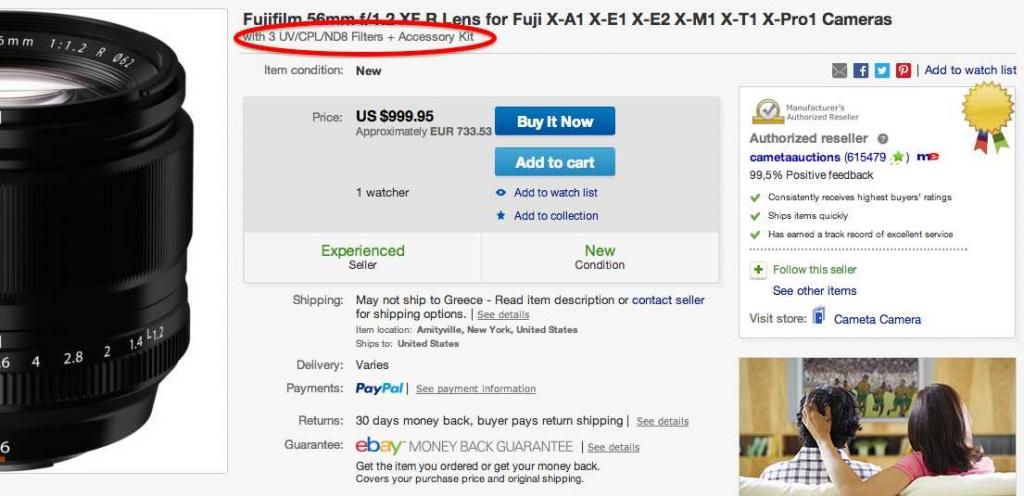 [/shoplink]
The XF 56mm is available right now at AmazonUS here, at ebayUS at the following stores: [shoplink 25372 ebay]cametaauctions 1[/shoplink] (with 3 UV/CPL/ND8 Filters + Accessory Kit for free), [shoplink 25373 ebay]cametaauctions 2[/shoplink] (no freebies) and [shoplink 25374 ebay]occamera[/shoplink] and also at BestBuy.
Fujifilm X-T1
[shopcountry 21553]
– Matt Brandon: "A Tribute to Hollywood Glamor. I always thought the glamor shots of those classic 1930's and 40's Hollywood beauties were amazing. But for some reason I never tried to emulate them until this week. Maybe because the the British drama, Indian Summers, for which I have been shooting. The drama takes place in the 1930′s, so I thought it might be fun to make some stills of the actors in the style of George Hurrell.. A Tribute to Hollywood Glamor: I shot these on my Fujifilm X-T1 using the 56 mm. I used three speed lights. Two were the Cactus RF 60 and the other the Phottix Mitros for Canon. I used two Cactus V6 wireless Transceivers. Read more how I achieved the 1940's glamor look here –> www.thedigitaltrekker.com"
– Sean Marc Lee: "My first big XT1 job for Monocle Magazine! Combination of 23, 35, 56, 10-24 lenses!" See here.
– Sean Marc Lee, Some Thoughts and a (sort of) Fujifilm X-T1 Review (at seanmarclee): "If you've used any of the previous Fuji digital cameras before, then you know image quality is up to par. I'm pretty old school as far as my standards go and for me the colors on these guys trump everything else. I'm not going to argue megapixels and show you MTF charts, I honestly don't care about that stuff. There's just something the Fuji engineers got right, the way their sensor and colors react to light. As much as people love shooting the JPG engine, for me RAW is the way to go. Using lightroom and VSCO as a basis, I've found the files approximate closely to all the film stocks I love and still use.  Comparing to both the 5D Classic and MK2 colorwise, it kills them. Long story short, it's fucking badass."
– Gnat: "I've been shooting both the Olympus EM1 and Fuji X-T1 back to back for some time, this time shooting track racing at the National Sports Center in Blaine, MN." Read and see more at olyallthetime.
– Tobias Rice: "There has been some much noise around the capabilities of the X-Systems and sports I thought I'd experiment with the settings and found it to do quite well. I outline the setting in the post for people who might want to give it a whirl, too." Read How To Shoot Sports With A Fuji X-E2 and X-T1 at lightwith.
– All about the gear X-T1 review video here
– FUJIFILM X-T1 + Canon 50mm F1.8 at the Japanese site dc.watch (translation).
– John: "Hey all, just wanted to share with you a recent quick review I did of the Fuji X-T1 during my trip to Peru. Enjoy!" Website: filmdigital.
– Schanae and the Fuji X-T1 at joshmcleodphotography: "Yet again, the [shoplink 21553] Fuji X-T1[/shoplink] and [shoplink 21554]Fuji 1,2/56mm lens[/shoplink] performed flawlessly…. The more time I spend shooting with this camera the more I like it. I have only 2 minor dislikes… the flash sync speed is too slow and the maximum shutter speed is too slow. This is where my Olympus OM-D EM-1 wins out (and part of the reason I have kept it)". Read his feedback about the 55-200 here.
– Sony A77 II vs many other cameras, including the X-T1. Pixel peeper should check out imaging-resource.
–  The versatile Fuji X-T1 at thebigpicturegallery: "Focus focus focus, lots of issues and conversations all over the web about this, but for me the focus was the key to me buying the XT1, and I am seriously impressed with it. Last weekend saw me shooting a wedding for 12 hours, in torrential rain, in low light and bright sunshine, I can honestly say with hand on my heart the focus speed was never an issue."
– Why Fuji ? at matthewhartphotography: "I know for a fact some of the other brands are very jealous of Fuji and so they should be. I believe Fuji are shaking this industry up, they are making a camera for photographers to use and control, not just a camera that anyone can use. […] Allowing the Photographer to control the camera and not the camera control the Photographer!"
–  Using M Lenses on Fujifilm X Cameras at lavidaleica.
– The Dutch coast with the Fuji X-T1 at wimarys: "If you've read me going on about the Fuji XT1 colours, you'll know I'm a big fan. Especially what you can do with the colours in Capture One, that still has an edge over Lightroom when it comes to processing Fuji files. The X-Trans II sensors' special colour filter array means that it is exceptionally good at colour reproduction (and manipulation), and I love playing with them in Capture One. I might have gone a bit overboard today, but if it suits the picture, why not…"
– My initial experiences with off camera flash and the X-T1 at smithographer: "The Phottix Strato II performed flawlessly and worked with the X-T1 without issue. I didn't have a single misfire nor any sync issues. Granted, I was shooting at a low shutter speed. I have since tested the maximum sync speed before any banding appears in the bottom of the frame and determined that I can get away shooting at 1/200 sec. This is just a fraction faster than the cameras specified max sync speed of 1/180th sec."
– X-T1 does fashion II at johncaz: "As I've mentioned plenty of times before, I love the camera, but there are some issues. While shooting the lovely model Evi Lanou the battery in the grip went red, but i was not worried since I had a full battery in the body. Unfortunately though, the X-T1 does a weird dance on-off while deciding every time you wake it up from sleep mode whether to use the battery in the grip or the body. This weird and obnoxious behavior surely needs to be fixed by Fuji soon!"
– Making intimate pictures means packing light and indiscreet at kalejf: "As any obsessive photographers might admit, when planning a trip, one of the biggest anxieties is what will I need ? How much gear can I squeeze in my carry on?. This was my first time out of many trips to Europe where I brought a small kit, and left my DSLR at home. For this trip I packed one of my favourite cameras I've ever owned the Fujifilm X-E1 and the brand new Fujifilm X-T1, 3 batteries, and for lenses the XF 18mm f2, XF 14mm f2.8 and the beautiful 35mm f1.4. All this fit into my small shoulder bag, versus the backpack I used to have to lug around."
– Eight hours, windswept | An X-T1 time-lapse experiment at laroquephoto.
–  Fujfilm X-T1 screen protection by Expert Shield at bjornmoerman: "Both of them fit the screen perfectly. Maybe even a bit too perfect. Given I'm no professional in applying screen protectors, I would even prefer if they would be a tiny bit smaller than the actual screen. This way a very small misalignment would not mean one needs to try again and open the opportunity for dust/bubbles. Having said that, I understand most people probably do not agree with this… "
– Paul Baggio: "I'm a new fan of Fuji since I get my X-T1. I'm also the author of PhotoGeek.fr, a blog around many info on digital photography.
Even if it's in French, your readers could be interested by my new article about this camera. I will try to write 3 or 4 ones until mid-July.
Fist one is here (photogeek)."
– Fuji X-T1: ISO test at wimarys: "One last remark on noise reduction: applying it to the Fuji X-T1 does impact sharpness, so it should be used carefully."
– X-T1 review at davedillonphoto: "With the Fujifilm X-T1′s robust build, extensive features, amazing EVF, and stellar image quality it's coming out on top in the sea of mirrorless camera options we have to choose from today. The Sony full frame A7 bodies may have a leg up in some image quality comparisons. but when it comes to the controls, EVF, and features of the X-T1 its a hands down winner for me. Dispite the manufacturing defects I received on my early serial number model, Fuji took care of it with great customer service and a fast turn around repair. The Fujifilm X-T1 will earn its place in your camera bag."
– Review at imaging-resource: "This is a camera that's just plain fun to shoot with, and it takes some really great photos as well. And perhaps more importantly, since it's less bulky than your DSLR, you're more likely to have it with you when you need it most."
– Review at eyalg: "Not having to use the menus ninety-five percent of the time is a blessing, the large viewfinder with its split image manual focus assist is clear, bright and genuinely useful, and the image output is a feast for the eyes. Despite the meagre video controls and the ability to shoot with no card, it's a winner end-to-end."
– Steven Dupuy: "Hey Patrick, Just finished my edit of a road trip in california almost entirely shot with the XT1. Do not hesitate to share it if you like it ;) Here it is."
– Travelling Light at tuan-nguyen: "As I became more confident with the X-T1 & its kit lens, I began to use it more exclusively, often leaving the D800 at home or in the hotel safe. At the beginning of May, I travelled to the beautiful island of Madeira, the X-T1 became my unobtrusive camera of choice."
– Really Right Stuff L-Plate for XT-1 and Battery Grip at ottokite, youtube video here.
– Fujifilm X-T1 compact system camera at pcworld: "Our overall experience with this camera was a positive one and we think it's a great piece of kit. We're happy to recommend it to anyone who favours tactile, labelled controls over screens and menu systems (though you can still use the screen and menu on this if you wish), but the cost is the main issue. Equivalent pricing ($2000) can get you a fairly substantial Canon EOS digital SLR kit, such as an EOS 70D with a couple of lenses. But that sort of camera might not give you the same level of satisfaction as the X-T1. The X-T1 is more interesting due to its body size, excellent image performance, and in-your-face features. It's an elegant camera that people will look at and then proceed to ask you questions about it. It definitely stands out in such a crowded marketplace and, to us at least, this means that Fujifilm is onto a good thing."
 Rokinon (Samyang) 8mm Fisheye Version II
AmazonUS / Adorama / BHphoto
 – Review: Rokinon (Samyang) 8mm f/2.8 Fisheye II (Fujifilm X-Mount) at admiringlight: "Overall, Samyang has provided us with a new optical design for its 8mm fisheye lens for mirorrless cameras, and overall this new version is a slightly better lens.  Images are extremely sharp across the entire image frame, and the lens is solidly built and very compact.  However, the new design is actually slightly worse against bright light, though that's really the only optical issue present with an otherwise extremely good lens."
 XF 56mm f/1.2
[shopcountry 21554]
Review at the Japanese site dc.watch (translation).
 X-E2
[shopcountry 17992]
–  Low light can be sometimes the best mood light at stanleyleary: "If you have an older camera that the ISO goes no higher than ISO 1600 this is a great reason to go out and buy some of the newer technology.  If you do look for cameras that will shoot at ISO 6400 or higher. My Fuji X-E2 will go up to 25600, which I have used a few times."
 X100S
[shopcountry 12883]
– Fujifilm X100s Review at danhawk: "I wasn't sure that this type of camera would be a good fit for me, but I've found it to be refreshing and inspiring. I'm making photos that I wouldn't have before and I'm more inclined to bring along a camera, even if it isn't this one. In other words, it answers all three questions with a "Yes". I believe I will continue to have a camera that fits this role for the foreseeable future."
– The Fujifilm X100s… at helensjournal: "Do I think as reported that it is the death of the DSLR, no I don't, if you are a landscape photographer you still need a DSLR for better dynamic range and clarity. But, it is an amazing second camera."
– Street Photography with the Fujifilm X-T1 and X100S at willlee: "Using the Fujis, in particular the X100S with its leaf shutter, even if somebody saw me point a camera in their direction the lack of noise makes it unlikely they could tell whether I'd taken a photo or not. Let's not forget the X-T1′s flappy LCD which I made good use of for candid street photography. The remote wi-fi trigger offers another incredibly useful tool for candids, but it wasn't one that I felt the need to make much use of."
– Fujifilm WCL-X100 review: We test the 0.8x wide angle conversion lens for the X100 / X100S at imaging-resource: "If I were an X100 or X100S shooter (or let me perhaps say not if, but once I can afford to become one) and had an extra $325 or so available, I'd very much consider adding the WCL-X100 to my arsenal. For my style, it wouldn't be an obvious, no-brainer choice like the newer TCL-X100 though. If it allowed for the more classical 24mm eq. it would be another slam-dunk for me, but at 28mm eq. range, not quite so much. That's just me, though, street shooters will undoubtedly find it a higher priority need."
X-E1
[shopcountry 12881]
 – Yeap Chin Meng: "I am Meng a fellow X user. I wish to share my blog post on Fujirumors on using Fuji X-E1 to shoot wedding. tRhis will be the link http://mengyeap.blogspot.com."
X-PRO1
[shopcountry 12882]

FREE DOWNLOAD: An official guidebook for the premium interchangeable lens camera, FUJIFILM X-Pro1 at fujifilm.com / guidebook on iTunes.
– Gavin Millar: "Hi Patrick, I just wanter to forward you a link to some menswear images shot with the X-Pro1 for yokeclothing.com (site should go live today!) Meantime,  the photos are here… http://www.gavinmillar.com/yoke-lookbook"
– On a street photography mission armed with my Fuji X-Pro 1 at streetphotographycourses: "As a footnote, today the temperature has been really hot and humid it has provided a real test for my Fuji X-Pro 1, but I have to say that it has come through with flying colours performing its duty really well, I'm beginning to become quite attached to this little beast."
– REVIEW: My Thoughts on the X-T1 after 10,000 images in 2 Months at macleancomms: "For me the Fujifilm X-T1 is a game changer, pure and simple;  this is the camera that made me decide to put my Nikon DSLR gear up for sale, which is a huge step for someone like me. Two months and 10,000 shots into ownership of the Fujifilm flagship camera, here are my thoughts, both good and bad. […] The X-T1 is an impressive camera and while not 100% perfect it demonstrates how far Compact System Cameras have come in a few short years.  For me they are the perfect tools for my work.  CSCs are not ideal for every type of photography (professional sports photography for example) but I have proven on this blog that the X-T1 is capable of getting usable images even in these situations."
– Night Street Photography in Budapest With a Fuji X-Pro 1 at streetphotographycourses.
lenses
 – Review | Fuji's XF 23mm f/1.4. With A 35mm Full Frame FOV, Is It A Rival For The X100S? at slrlounge: "I know I may seem to be giving away my sentiments about the lens already, but with this one in particular, there's much to consider. Its focal length is about equivalent to that of 35mm on full frame, which makes it ripe for a go-to prime, and a go-to street shooter. Though a 50 is my favorite, I do love a good 35, and this felt good from the moment I picked it up."
– Leo: "I have recently took advantage of the Zeiss 12mm and 32mm deal. I have made a video comparing the lens side to side  with some of the XF lens that I have. I think it might be benefit to your readers who are considering these lens. Feel free to share it with the fellow reader if you think it fit your blog. Thanks." See the video here.
– Choosing between the Fuji 10-24mm f/4 zoom or Zeiss Touit 12mm f/2.8 and Fuji 14mm f/2.8 primes at aboutphotography-tomgrill: "In the end the deciding factors come down to how the lens will be used. Indoors and hand held argue for a fast aperture. Landscapes, where fast aperture is not a factor, argue for the flexibility of a zoom. Travel, where portability comes into play coupled with some hand-held interior shooting, argues for a smaller, fast aperture prime."
RAW-conversion

 – Which RAW software DxO vs Capture One vs Lr at frankdoorhof: "So which one is best….? It seems Capture One right? Well at first glance I would also say yes, but again it's not the complete story, to get a real winner we have to look at much more and that would go way too deep for this blogpost, but let's just scratch the surface for what I use."