X-T1 + 18-135 kit available for pre-order at camerapro (AUS)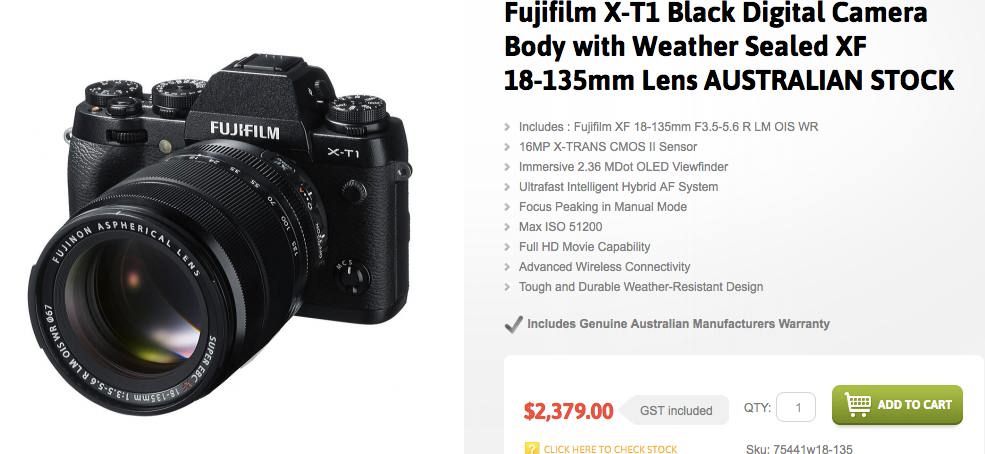 XF 18-135 pre-orders: USA: BHphoto / AmazonUS / Adorama  EUROPE: wexUK / PCHstore  / wexDE AUSTRALIA: camerapro (with X-T1)
_ _ _
I tell you, I was pretty surprised to see that Fujfilmi initially does not offer the 18-135 bundled with the X-T1.
Apparently Fujifilm expects a high demand for this lens and therefore decided to deliver it first to those who already own an X-T1 (and patiently waited their weather resistant combo to be finally complete). I think the X-T1 with 18-135mm kit will follow as soon as Fujifilm fulfilled pre-orders for the lens only.
So, no kit for now in most parts of the world… but not in Australia!
In fact, Australians can now pre-order also the X-T1+18-135 combo here at camerapro.com.au.
If you buy the X-T1 and 18-135 separately, you'd pay AUD 2,714 (AUD 2,614 now because of the X-T1 sale). Purchase the kit (X-T1+18-135) and pay AUD2,379.
– X-T1 body only: AUD 1,499 ($100 off because of the EOFY sale. Normal price is of AUD1,599)
– X-T1 with 18-135: AUD2,379
– XF 18-135 only: AUD1,115
You can buy the X-T1 bundled also with other Fujinon lenses. See all combinations here at the Australian store camerapro.
_ _ _
Fuji X-T1: Amazon, Adorama, B&H, eBay XF 18-135 pre-orders: USA: BHphoto / AmazonUS / Adorama – EUROPE: wexUK – AUSTRALIA: camerapro
If the 18-135 is the all-rounder travel lens you've waited for, feel free to pre-order it at BHphoto, AmazonUS, Adorama to support FR. You won't pay a single penny more on your lens, but a small commission is valued back to Fujirumors. Thanks in advance to those who decide to support this blog.