Magnum Photographer David Hurn Shoots Fujifilm X: "Photography has Just Two Controls: Where You Stand and When you Press the Button"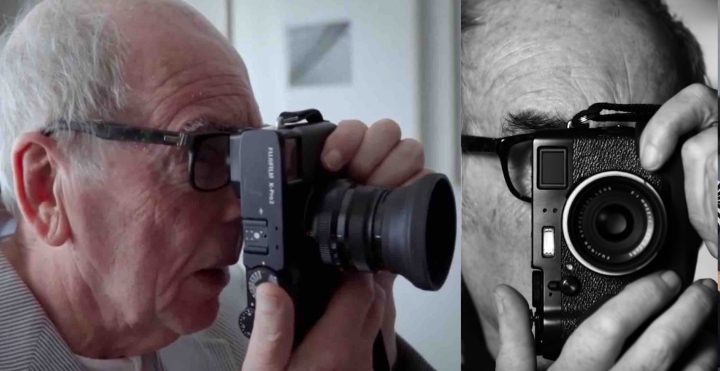 David Hurn – The Life
This is part of our little curiosity and famous X shooter corners, and I think you'll enjoy this one particularly.
The 2017 BBC documentary "A Life in Pictures" about the great photographer David Hurn has now been uploaded to YouTube (video below).
It's definitely worth watching in itself for the photography and to learn more about David's life and art.
David Hurn – The Gear
For us Fujifilm X shooters, it might also be interesting to notice, that David Hurn is currently using a pair of Fujifilm X-Pro2's for his photography.
In this documentary, he uses the X-Pro2 to photograph Jane Fonda, whom he photographed back in the days of her highest success, getting very close to her.
The documentary shows David's and Jane's re-union after 50 years. It's a very emotional moment, where they go through old images and talk about the past.
At some point, David grabs his Fujifilm X-Pro2 and photographs her, taking some candid portrait shots. And then he says:
Part of the trick is to get to that relaxed stage, but still remain being a photographer
In another video (linked below, too), he shoots with the Fujifilm X100T or X100F, shows how well it performs in tricky light situations and says:
What's astonishing about these cameras now, is that they really can take pictures in virtually any light at all.

Boy, it's so much easier now than it used to be. I can't believe it
Of course Fujifilm is not the only camera he owns. He spent a life with Leica, and the video shows also a Canon. But after a long and glorious career, I think he must have a respectable collection of gear at home.
But of course we feel honored, that also Fujifilm cameras made it into his camera bags, and we welcome Mr. Hurn to the Fujifilm X Club. May your Fujifilm gear serve you well for many more years to come.
What's Important in Photography
At some point of the video, he says about his X100F:
It's a nice camera, it's all I need. One little camera and a lens… and good shoes!

Wear good shoes. If you are going to work, walk 12 hours a day"
And I'll leave you with this sentence:
Basically in photography there is just two controls: one is where do you stand, and one is when you press the button.
Ah, photography can be that simple (and rewarding), if you step aside from the techy side of it and step out to take pictures… with some good shoes on! :)