Latest Lightroom Update Removes Fujifilm Tethering Plug-in. Adobe and Fujifilm Working on a Fix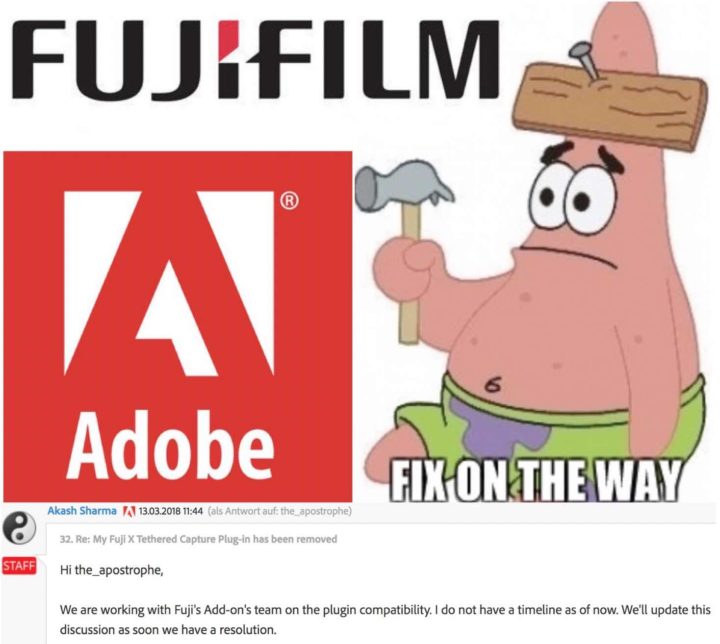 Tethering Bug
I'm getting reports, that the Lightroom tethered shooting PRO plug-in for Fujifilm cameras works no more.
There is a dedicated thread about it on the Adobe Forum here, and Adobe said today:
"We are working with Fuji's Add-on's team on the plugin compatibility. I do not have a timeline as of now. We'll update this discussion as soon we have a resolution."
I asked the X-shooters experiencing this problem, if the new plug-in version 1.8 released by Fujifilm today fixed this issue, but here is what I have been told:
"No, unfortunately. I was really hoping it would too. I made sure that I updated everything and that the plugin was installed correctly, but that plugin appears to be exclusively for the GFX. Didn't recognize my XT1 at all, even after ensuring everything from camera to software was updated."
I know many of you guys rely on tethering to get your job done, so this is very annoying. Until Adobe and Fujifilm release a fix, I can only recommend a workaround by using Fuji's free X Acquire tethering software.
Down below a video that shows how X Acquire works (with Capture One).
And this is how FR-reader s.tb fixed this issue (thanks)
I had the same issue and find a workaround.
I manually downloaded the file:
FUJIFILM_Tether_Shooting_Plug-in_PRO_Mac_1.7.0.zxp
and installed it with the ZXPInstaller from Adobe.
Tether Shooting PRO Plug-in