Happy Birthday: Fujifilm X Series Turns 10 Years Old and WIN a Limited Edition 10th Anniversary X100V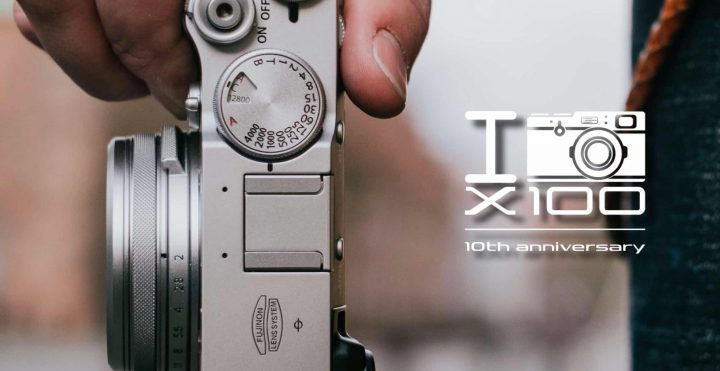 10 years ago, at Phtokina in September 2010, Fujifilm announced the development of the first Fujifilm X series camera, the original Fujifilm X100.
That day marked the start of the Fujifilm X series.
In order to properly celebrate this day, Fujifilm launched a giveaway that gives you the opportunity to win a limited edition Fujifilm X100V.
How to enter the contest is described at the dedicated Fujifilm X100 10th anniversary page (click "Enter Now" and then click on the drop down menu to see the countries that participate).
You'll also find a shot video, where Fujifilm managers Takashi Ueno and Fuji X photographers like Kevin Mullins talk about the original X100 and its successors.
Down below you can read what the manager says, plus he makes a strong commitment: "Fujifilm will continue to improve the X100 series over the next 10 years and beyond"
10 years passed quickly
Fujifilm made constant advancements in these 10 years
X100V is the fifth generation
he has special fondness to all X cameras. But the X100T always impressed him most
X100T saw for the first time a female designer working the X100 series
X100T was a bit more rounded and hence different than its two predecessors (X100 and X100S)
X100F saw battery compatibility with other non-X100 X series cameras, which is a big usability improvement
X100F battery was bigger than predecessor, more battery life, but size of body remained the same
manufacturing skills at Fujifilm have improved
X100V is weather resistant if you add a filter on it
X100V has an ultra-thin tilt screen
as a product, the manager thinks the X100V is the most perfect so far
the mangers would like those, who never used an X series camera, to start with an X100 series camera. It's an all-in-one package that does not require you to drop your previous system and change lenses, accessories, etc.
you can enjoy the X series with one single all-in-one camera
Fujifilm will continue to improve the X100 series over the next 10 years and beyond
"Please enjoy your photography life together with us and the X100 series"
In terms of performance lots lof things have changed for the Fujifilm X series. But was hasn't changed at all, is that it is and remains Fujifilm's best looking digital camera of all times, not only according to myself, but according to the majority of FR-readers, as you can see in this survey, where the X100 line clearly wins the X series beauty contest.
With all that said, make sure to check out the dedicated Fujifilm X100 10th anniversary page.
Must Read for X100 Lovers – "Don't Touch that Camera!" the Story About the Inspiration Behind the Fujifilm X100 Series Design
Fujifilm X100V: BHphoto, AmazonUS, Adorama, Focuscamera
WIN A Limited Edition 10th Anniversary X100V!
September 2020 marks a decade since the birth of the FUJIFILM X100 series, so to celebrate, we're running a photo competition showcasing the best shots you've taken with one of these legendary cameras.
For some, it's the professional level of performance you get in such a tiny body. For others, it's the revolutionary Advanced Hybrid Viewfinder. For many more, it's the external dials and iconic body design. There are countless reasons why the X100 series is so dearly loved by photographers around the world, but what really makes this range of cameras special is the rich tapestry of moments it's captured.
It's for this reason that we are asking you to select the single greatest image you have ever taken with an X100 camera and share it with us. There are no restrictions on genre; it could be a street shot that stops you in your tracks, a portrait that makes it impossible to look away or a landscape that transports you to a different place.
Whatever is in the frame, if it's a moment that's special to you, we want to see it. And what's more, if it catches the eye of our judging panel, you could win a limited edition 10th Anniversary X100V and be featured in the exclusive X100: Framing a Decade exhibition at London's FUJIFILM House of Photography!
Enter your image now and show us how you have helped to shape the X100 series into a photography icon.
Fujifilm X100 10th Anniversay Page
Fujifilm X100V: BHphoto, AmazonUS, Adorama, Focuscamera