Fujinon XF50mm f/1.0: Meet the "Worst" Lens of the Year that Many Want and Love ;)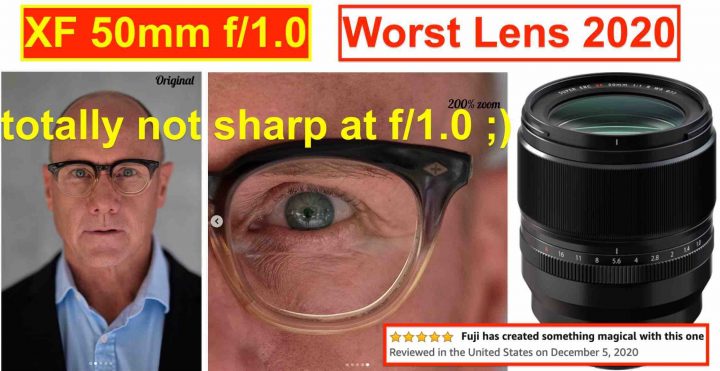 XF50mm f/1.0 – Worst Lens 2020?
Recently DPRTV declared the Fujinon XF50mm f/1.0 the worst lens of 2020.
Of course this generated a heated debate. And today we are going to discuss this in a dedicated post.
Now, I think we can all agree that the Fujinon XF50mmF1.0 is not the sharpest Fujinon lens. But I doubt anyone would seriously expect that from an f/1.0 lens.
I think Jonas Rask described this lens best, when he wrote:
The images coming from XF50mm f/1 R WR has those exact same undefinable traits that makes me love my XF35mm f/1.4 so much. The sharpness that is sharp, yet not overly sharp. A flattering kind of sharpness that seems more rounded, organic and less digital/clinical.

[…]You know that "magic" that everyone is referring to when talking about the old XF35mm f/1.4? […] The focus on making a character lens instead of a "perfect" lens. And that is EXACTLY what the XF50mm f/1 R WR is. A lens full of character, but not a perfect optical creation.
But being not the sharpest, does not mean that it is unusable soft at f/1.0.
On the contrary, many other reviewers praise it for its sharpness all over the frame already at f/1.0.
Let's Look More at the Worst Lens of the Year
Now also ivanjoshualoh joined the discussion, with his article "Meet the Worst Lens of 2020". He shows samples taken at f/1.0, and quite frankly, for being at f/1.0, I think that they look totally fine. You can see one of his samples at 200% magnifications in this instagram post and you can check out his full article here.
In the B&H Explora Top 10 Mirrorless lenses list for 2020, the Fujinon XF 50mm f/1.0 R WR grabs the second spot right after the Sony FE 12-24mm f/2.8 GM. Read the full list here.
Another one comes from abiggercamera, who also took at look at his XF50mmF1.0 and shared his thoughts in this post.
Last but not least, the first customer reviews at AmazonUS and BHphoto here are also pretty positive.
What is Happening?
So why this discrepancy?
Well, time to tell you this.
As some of you know, I own the XF18-135mm and it's the one zoom I love most in the Fuji lens lineup. Versatile, perfect travel companion, and surprisingly sharp for a superzoom.
But when fellow Fujifilm shooters write me personally and ask me if I recommend them buying the XF18-135, I always answer to be careful and try it out first in store.
In fact, I hear that the XF18-135 is arguably the one lens with the biggest sample variation among Fujinon lenses, meaning that you're likely to get a very good sample like mine, but there is a non negligible amount of lenses that is simply less sharp.
To be clear: sample variation is something that happens to all camera brands. But in case of the XF18-135mm it is, so I hear, just more pronounced than with other Fujinon lenses.
In the light of what I said above, I would not be surprised if DPRTV would have tested a sample, that simply does not perform as well as the one that ePhotozine, Cameralabs or Christopher Forst tested.
And to be clear: that's not DPRTV's fault. It's Fuji fault, who should make sure that there is as little sample variation as possible.
The good thing is: we customers can always test our lenses in store before we buy it, or buy it online and return it, in case we are not fully satisfied with it.
King of Sales
No matter what DPRTV says, the Fujinon XF50mm f/1.0 keeps up its victory parade by selling so strong, that Fujifilm is just not able to keep up with delivery! Here on FujiRumors, it is the best selling Fujinon lens of the year, and one of the best selling ever!
I am lusting after it too. But there is one BIG reason I am kind of hesitating. It has nothing to do with the lens itself, but with something more personal that I might share soon.
You must be patient, but you can pre-order your lens down here: BHphoto, AmazonUS, Adorama, Focuscamera
Follow FujiRumors on Patreon, Facebook, Instagram, RSS-feed, Youtube, Flipboard and Twitter
Join Our Owners Groups
Join Our Facebook Pages