Fujinon XF 33mm f/1.0 Listed for $2,350 at Romanian Store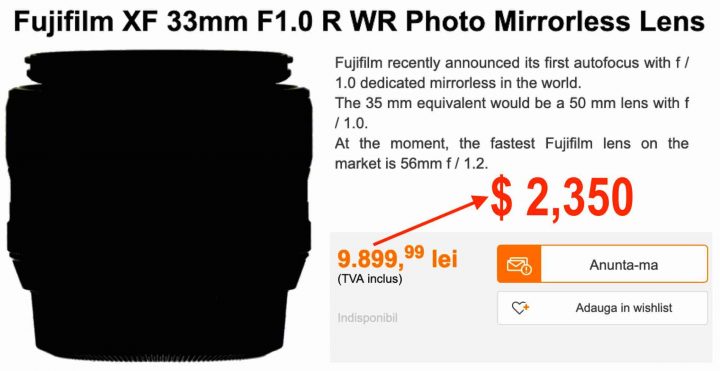 XF33mm f/1.0
A Romanian store has the Fujinon XF 33mm f/1.0 R WR listed at their store for $2,350. That's definitely a better price than the $3,100 listed at the Czech store a few months ago here.
Now, I think that this is just a price holder and not based on real information they have. But it's a good opportunity for us to talk about the XF 33mm f/1.0 pricing.
UPDATE: Mistral75 said in the comments:
The ROn 9,899.99 price includes the Romanian VAT (19%). You have to subtract the VAT amount to compute a USD price. The result is $1,976.84, say $1,999 when rounded.
The Right Price
In my opinion, Fujifilm must price the Fujinon XF33mm f/1.0 very aggressively, and as our Fujifilm XF 33m f/1.0 recommended price poll showed, already a $2,000 price tag would be a deal breaker for many.
The brand new full frame Panasonic Lumix S PRO 50mm f/1.4, which is an XF33mm f/1.0 equivalent, costs $2,300.
So Fujifilm can, under no circumstances, sell it higher than $2,300. But also, they should show the advantage of APS-C by pricing it lower than the Panasonic 50mm f/1.4.
And if Fujifilm thinks to set a higher price at the beginning, for later on offering some deals on it, then I allow myself to tell Fujifilm (who reads this blog and even adds those lenses to their roadmap, that the FujiRumors community recommended them to make), that this is a bad idea.
Just set a great price right from the start, and don't launch any deals on it for a long time. You will start making money with this lens immediatly, instead of having to wait several months for finally selling it.
Considering the Fujinon XF 56mm f/1.2 sells for $1,000, anything between $1,200 and $1,500 would be a good price for the Fujinon XF 33mm f/1.0.
Dear Fujifilm, many credit cards (mine included) are ready to suffer right at announcement day. So don't let this surely marvellous piece of lens engineering sit in warehouses unsold by setting a too high price tag.
read here – 2020: A Fuji Odyssey Ends with the Fujinon XF33mm f/1.0, but Do We Really Need it?
Don't forget to:
via f64