Fujifilm X-Trans vs Bayer Sensor Quick Blind Test Comparison: Which One do you Prefer?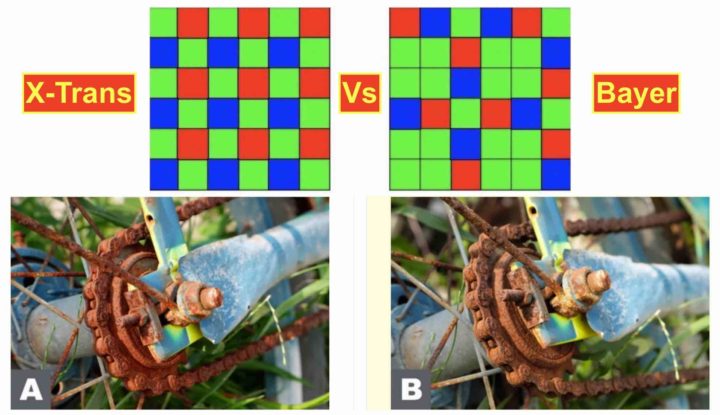 X-Trans vs Bayer Blind Test
Little weekend game :)
Since we recently talked about Fuji colors vs Nikon, Sony and Canon, let's do a fun little (and non scientific) blind test with you guys.
This time we compare the Fujifilm X-T20 X-Trans with the Fujifilm X-T100 Bayer CMOS sensor cameras.
Both cameras were used with the Fujinon XC15-45mm f/3.5-5.6 OIS PZ.
Keep in mind that this is not only a comparison between X-Trans and Bayer, but also a comparison between different processing engines.
I did the test, and my score is 1 to 5 for X-Trans. Only for 1 case I could not see a significant difference, in all other cases I went straight for X-Trans.
To my taste, the color rendition of the Fujifilm X-T100 was in some cases a bit exaggerated and less natural, for example in the cloudy sky or the rusty chain. Also, in my eyes, on the X-T20 green/yellow leaves overall looked more natural and less plasticky.
Maybe that's due to the more aggressive processing applied by the processor used in Fuji's Bayer cameras, which is something we have analyzed already back in 2013 here, when we compared the Bayer X-A1 to the X-Trans X-M1.
Ready to test?
Then go to the Chinese site dc.fever and drop your vote.
Also, let us know your results in the comments and in the poll down below.
Fujinon XC 15-45mm: BHphoto, AmazonUS, Adorama
Fujifilm X-T100: BHphoto, AmazonUS, Adorama, FocusCamera
Fujifilm X-T20: BHphoto, Adorama, AmazonUS, FocusCamera

Loading ...
Follow FR on Facebook, Instagram, RSS-feed and Twitter
FEED YOUR FUJI ADDICTION AT:
Our Owners Groups
Our Facebook Pages