Fujifilm X-T4 Coming with Digital Image Stabilization that Works in Conjunction with OIS/IBIS, X Processor 4 and 240 fps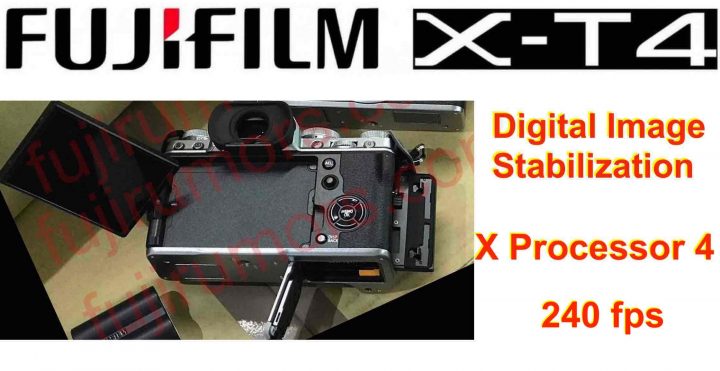 Thanks to our sources, we are now able to share a couple more Fujifilm X-T4 specs.
Fujifilm X-T4 has digital image stabilization (DIS)
Digital image stabilization that works in conjunction with IBIS and OIS
X Processor 4
240 fps @ 1080p
Interesting to finally see digital image stabilization on a Fujifilm X-Trans camera. Until now, only Bayer cameras had it, as it is easier to achieve with Bayer than X-Trans. Luckily Fujifilm figured out how to make it work also on X-Trans cameras right in time for the Fujifilm X-T4 launch.
Down below you can see all leaked specs so far.
We will now proceed to update our X-T4 vs X-T3 vs X-H1 specs comparison, which is now almost complete.
Join FujiRumors on Patreon, Facebook, Instagram, RSS-feed, Youtube, Flipboard and Twitter
→ Top X-T Community: Fujifilm X-T facebook group
→ Top X-T Page: Fujifilm X-T Page
Full Leaked X-T4 Specs so Far
26 MP sensor of X-T3
X Processor 4
IBIS can go up to 6.5 stops with some of the prime lenses.
price $1,699
dual SD-Card slot
new sub dials with ""Video", "Still" and also "HDR" markings
flippy screen like X-T200
X-T4 rear screen 1.62m dots [X-T3 has 1.04m dots]
Classic Negative and Bleach Bypass film simulation added
no X-H1 alike leaf spring shutter release button
CH mode has 15 fps, and the slots are faster at writing to cards. [X-T3 has 11 fps]
deeper buffer
there is no 6K
240 fps @ 1080p
2350 mAh battery (a new report says 2200mAh. But in any case a bigger battery, as we leaked first here with real life images). Battery looks almost th same like the Nikon EN-EL15b
Fujifilm X-T4 real life full front and back images
has exposure compensation dial
no top LCD
Fujifilm X-T4 has still an exposure compensation dial. No top LCD like X-H1
No Pixel-shift yet.
USB PD protocol implemented, as it charged very quickly with a PD 30W USB-C charger. Not so fast with a normal QC charger.
Multiple Boost modes including normal / economy / boost AF / boost FPS / boost Res etc.
Fujifilm X-T4 has digital image stabilization (DIS)
Digital Image Stabilization (DIS) can work in conjunction with IBIS and OIS (all three together!)

size: 134.6 x 92.8 x 63.8 mm

weight: 607g
Join FujiRumors on Patreon, Facebook, Instagram, RSS-feed, Youtube, Flipboard and Twitter
→ Top X-T Community: Fujifilm X-T facebook group
→ Top X-T Page: Fujifilm X-T Page