Fujifilm X-T30 Gets Gold Award at DPReview and Compared to Sony a6400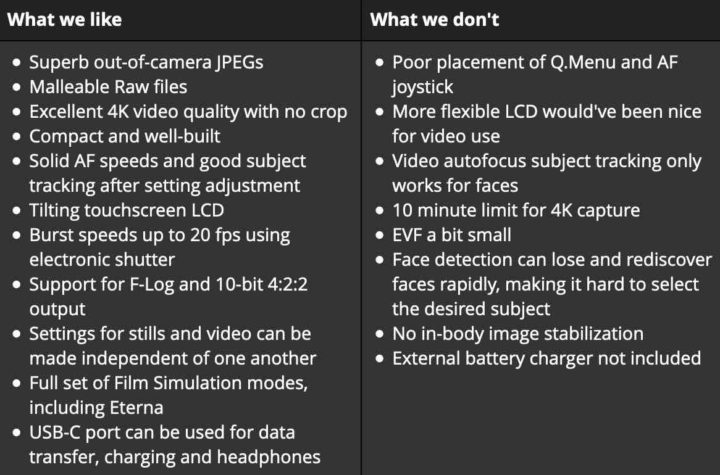 Fujifilm X-T30
DPReview published their Fujifilm X-T30 Review a few weeks ago and gives it a nice gold award (84% overall score).
They say it's hard to go wrong with the Fujifilm X-T30. They also try to answer the question which is best for you, the Fujifilm X-T30 or the Sony a6400.
From their conclusions:
We're still not big fans of the experience of shooting with the Sony: its two command dials are undermined by the need to stop and adjust your grip every time you want to use the lower one. Its menus are still difficult to navigate and its touchscreen is poorly utilized. That said, its updated AF system is genuinely phenomenal, removing, at a stroke, one of the things you previously would have had to mess around with. If your photography benefits from fast, precise focus (particularly for human subjects), the Sony is the stronger choice.

We still really like the X-T30, though. It looks pretty, is engaging to use and produces attractive JPEGs and consistently better video than the Sony. It's not without its own usability flaws: the joystick and Q buttons are awkwardly placed and the pressable command dials are fiddly and easily knocked. Overall there are arguably too many control points for such a small camera, but it's a camera that can be set up to be really enjoyable to use.

Both these cameras are significantly better than the already good cameras they replace, so there's no wrong choice here. So which is more important to you: the experience of photography or the certainty of getting the shot?
You can read the full review at dpreview and the Sony a6400 vs Fujifilm X-T30 buying recommendation here.
Also Mirrorlessons compares the Fujifilm X-T30 to the Sony A6400. Their conclusions:
Strengths of the Fujifilm X-T30:
more intuitive to set up
faster continuous shooting speeds with a blackout free-live view when using the electronic shutter
a bit better at shadow recovery
video quality with beautiful colour rendition
10-bit 4:2:2 via HDMI
more operations available with the touch screen
better wifi and bluetooth integration
vast selection of native lenses
Strengths of the Sony a6400:
the larger front grip makes it more comfortable to use
180˚ tilting screen
better highlight recovery
face and eye detection is more accurate
the real-time tracking mode is the best to date
larger buffer memory
more advanced video settings
better dynamic range when using Log profiles
Make sure to read the whole comparison at mirrorlesscomparisons.
Follow FujiRumors on Facebook, Instagram, RSS-feed and Twitter
X-T3 Rumors, News and Community