Matt Granger Dislikes the Fujifilm GFX50R, ePhotozine Highly Recommends it as Step Up from Full Frame and More – GFX50R Roundup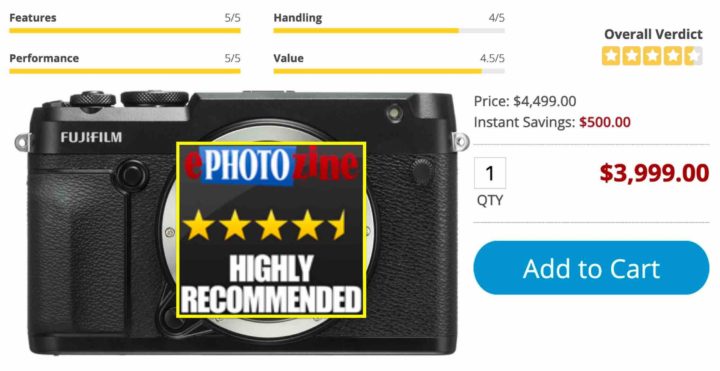 Fujifilm GFX 50R Roundup
Yes, I am a Fuji fanboy, otherwise I would not have opened FujiRumors in times, where many of you probably didn't even knew that Fujifilm makes digital mirrorless cameras.
But this does not stop me from sharing everything, the good and the bad, that people say about Fujifilm.
In today's roundup, 100% focused on the Fujifilm GFX 50R (which now costs $3,999 only!), I will share a huge amount of Fuji GFX50R reviews.
On the positive side, we notice the ePhotozine review, which highly recommends the Fujifilm GFX 50R and says:
"Delivering medium format image quality, the camera is a step up in performance compared to a full-frame DSLR or mirrorless camera, with excellent noise control, and exceptional levels of detail possible. […] the next step up in image quality […] Highly Recommended"
Also lensrentals is happy and says:
"Incredible price point for camera and exceptional image quality"
On the negative side, we can find Matt Granger's review, who says it has the "worst ergonomics on any camera he ever used" and he is disappointed with its focus tracking capabilities. He does not recommend to buy this camera.
Matt has spoken very good about Fujifilm many times in the past, so do not start attacking him about being a Nikon/Sony fanboy or biased in any way. It's just his opinion after having used the camera.
Want to see and read it all? Then check out the (massive) Fuji GFX50R roundup below.
Follow FujiRumors on Facebook, Youtube, Instagram, RSS-feed and Twitter
STAY IN THE LOOP
Fujifilm GFX facebook group
Fujifilm GFX facebook page
And remember, Fujifilm GFX gear is now hugely discounted:
GFX 50R

G Mount Lenses
Fujifilm GFX 50R Roundup
Matt Granger Fujifilm GFX 50R Review (video below). Here are the key points:
not great ergonomics
you can get lots of details in the files
GF110mm f/2 is a beautiful performer
Fujifilm X-H1 has better ergonomics and much more usable autofocus
GFX50R autofocus tracking does not work
does not have the versatility of a DSLR, since it has no fast reliable autofocus
GFX 50R image quality is higher than top end DSLR, but not that much. Sensor is old
He does not recommend buying it
not suitable for fast situation, but with static or slow subjects, the reward is outstanding image quality
worst ergonomics on any camera he ever used
big and heavy lenses, but camera has no grip
Hasselblad X1D is much better designed
_ _ _
Maarten Heilbron – Fujifilm GFX-50R extensive, detailed, hands-on review (4K)
_ _ _
Eric Kim Photography – Review of Fujifilm GFX 50R and Why Digital Medium Format Photography is the Future
_ _ _
during the meanwhilst – Fujifilm GFX50R Problems
_ _ _
Andy Mumford – Fujifilm GFX 50R – A Landscape Photographer's Review
_ _ _
TECH360.TV – Fujifilm GFX 50R review: Is it a game changer for Medium Format?
_ _ _
Fujifilm GFX 50R Review | Hands On Testing in Rome