Fujifilm X-T100 – Full Specs and Product Page Leaked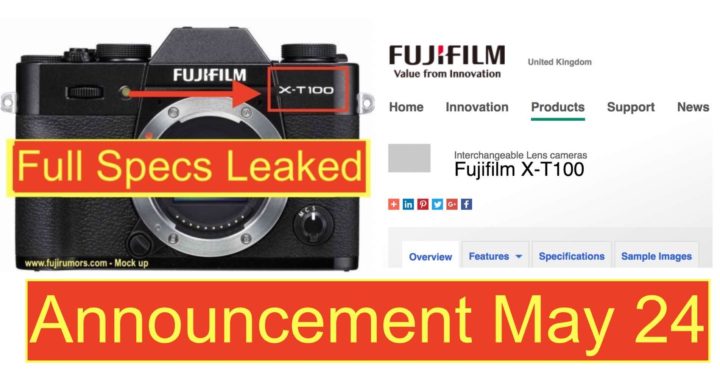 Fujifilm X-T100
Fujifilm EU (found via nokisihita) just leaked the full specs of the Fujifilm X-T100, which according to our sources will be officially announced on May 24.
All the specs we rumored are confirmed.
The goal of the Fujifilm X-T100 is to close the gap between the EVF-less Fujifilm X-A5 and Fuji's mid-range X-Trans cameras like the Fujifilm X-T20 and Fujifilm X-E3.
The direct competitors of the Fujifilm X-T100 are cameras like the Olympus OM-D E-M10 Mark II and the Sony A6000.
Fujifilm X-T100 Specs
Show Me Your World
For someone, your day is just another normal day. For yourself, it becomes the only and original day. You are the only one who is allowed to capture your own story. Just by looking the world through the lens, it will make you realize the precious and memorable moments you are experiencing. FUJIFILM X-T100 let you fully enjoy your life through expression of photography, with exceptional image quality and style.
View
In combination with newly introduced three way tilting LCD monitor and high resolution and high magnification (0.62x) organic EL electronic viewfinder will correspond to variety of shooting style for executing creativity
Style
The FUJIFILM X-T100 weighs just 448g** with anodized coating on aluminum top cover, delivering a retro and luxury feeling.
Image Quality
The FUJIFILM X-T100 combines a 24.2 megapixel APS-C sensor with the image processing engine to achieve FUJIFILM's renowned photo quality
Function
The newly equipped powerful memory realizes fluent and high capacity continuous shooting, and evolved SR+ Auto Mode now capable with subject recognition together with conventional scene recognition. X-T100 offers no failure in photography for anyone with easy and variety of automatic functions.
Lens
In combination with rich X mount genuine lens lineup incorporated with FUJINON's unique optical technology, including small and light electronic zoom lens "XC15-45mmF3.5-5.6 OIS PZ" capable of minimum working distance of just 5cm***, X-T100 corresponds any photographic category and subject with outstanding image quality.