Fujifilm X-Pro2 Low Light AF-speed Monster :: Breaks the Records of Olympus, Panasonic and Samsung Flagships! (lesnumerique)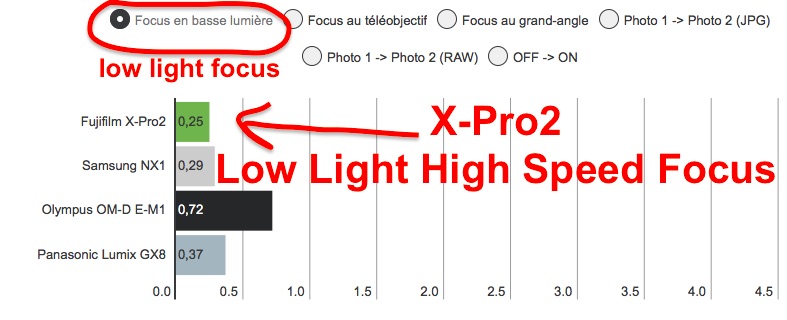 [wysija_form id="1″]
_ _ _
Sure, we have to wait for the final X-Pro2 Firmware to judge the real AF speed of the latest Fuji gem. But, at this point, the X-Pro2 seems to do pretty well, at least according to lesnumerique, who compared it with the AF-speed demons and flagships of Olympus (OM-D E-M1), Panasonic (GX8) and Samsung (NX1).
In Low Light situation, the AutoFocus of Fujifilm X-Pro2 (with XF 16-55mmF2.8 WR) beats them all (with non-final Firmware!!!). There is a slight advantage for the 43 cameras in good light… but who knows if the Fujfilm X-Pro2 will break also this record, once the final Firmware is out.
Also the writing speed (RAW / JPEG) is the best amongst all the cameras.
See more at at lesnumeriques (translation)
well done, Fuji, the X-Pro2 really rocks :-)

Fujifilm X-Pro2: USA: BHphoto – Win $1,699 by pre-ordering at BH via FR* / AmazonUS / Adorama / EUROPE: AmazonDE / AmazonUK / WexUK / PCHstore / AmazonITA / AmazonFR** / AmazonESP** /   AUSTRALIA: CameraPro
* pre-order the X-Pro2 (body or kit) at BHphoto using the FujiRumors shoplink and you'll already have entered the sweepstakes. The lucky winner will get an Amex gift card pre-valued at $1,699.00. By joining this Sweepstakes, you agree with the Terms and Conditions. More detailed description of the Giveaway here.
** pre-order available in any moment