Mini Mixed Zone: "I've an X-Pro2 right now, any questions?" :: X-Pro2 updated dpreview test :: 90mm review photozone & more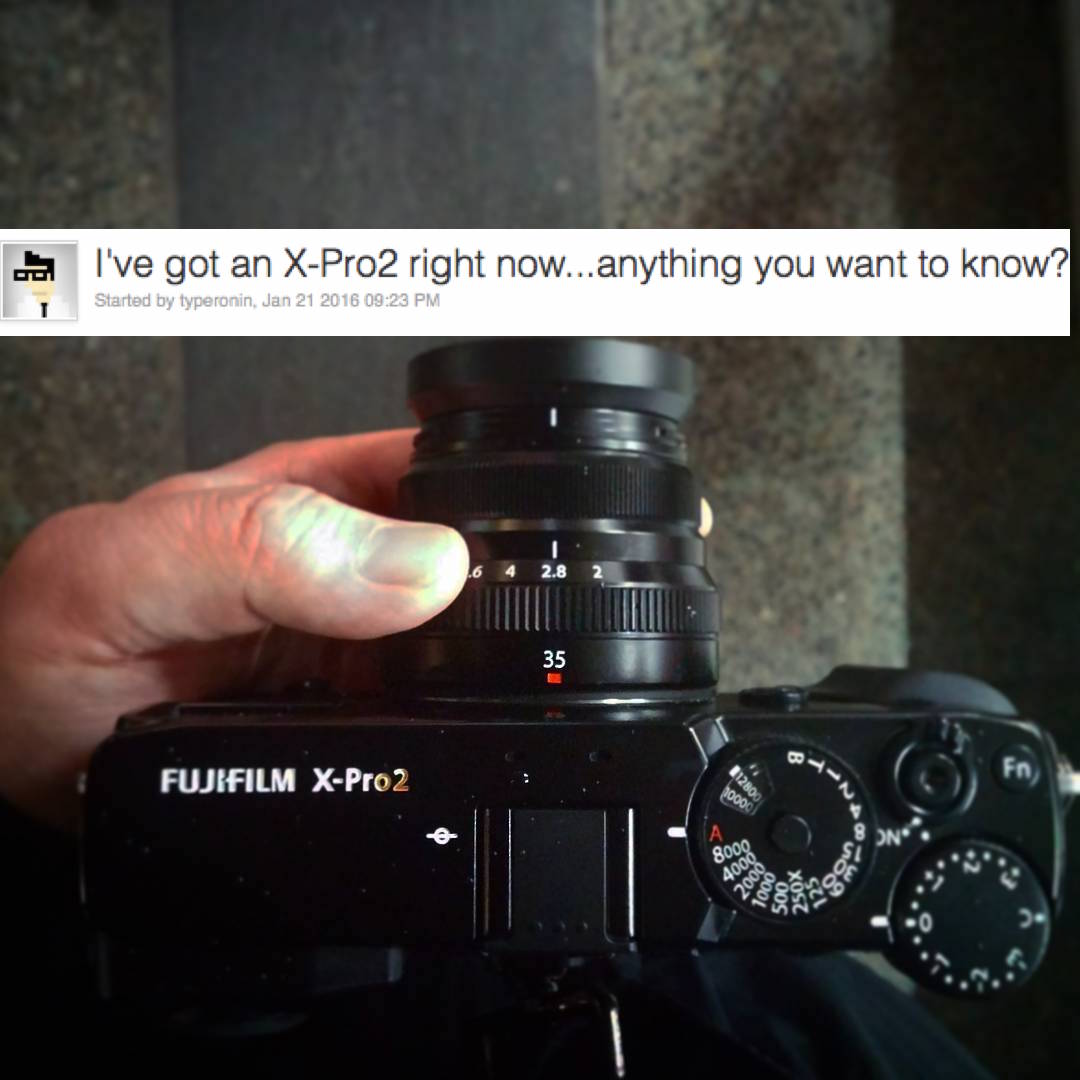 Fujifilm X-Pro2: USA: BHphoto – Win $1,699 by pre-ordering at BH via FR* / AmazonUS / Adorama / EUROPE: AmazonDE / AmazonUK / WexUK / PCHstore / AmazonITA / AmazonFR / AmazonESP /   AUSTRALIA: CameraPro
* pre-order the X-Pro2 (body or kit) at BHphoto using the FujiRumors shoplink and you'll already have entered the sweepstakes. The lucky winner will get an Amex gift card pre-valued at $1,699.00. By joining this Sweepstakes, you agree with the Full Terms and Conditions. More detailed description of the Giveaway here.
Fujifilm X-Pro2
MUST READ: X-Pert Corner X-Pro2 First Look
I've got an X-Pro2 right now… anything you want to know? Ask it to FXF member typeronin here.
X-Pro2, the next generation at macleancomms
Digging into the Fujifilm X-Pro2: Studio analysis and full-production sample gallery added at dpreview :
"It's widely assumed that Fujifilm's X-Trans sensors use low-noise Sony silicon behind their unusual color filter arrays, and the performance of the X-Pro2 is certainly up to that standard. Compared here with the Nikon D5500 (using the same shutter speeds so that they are working with the same amount of light), you can see very similar amounts of noise up to a 4EV push, and possibly a fraction more after a 5 stop push, though the difference may simply be one of grain structure, caused by the different demosaicing processes.
This performance gives plenty of flexibility when it comes to pulling extra tonal information out of the shadows. It means there's more scope for processing than with the likes of the Canon EOS 70D, and very similar to the results of the Samsung NX1."
Fujinon XF100-400
 BHphoto / AmazonUS / Adorama /
Samples at the Polish site optyczne (translation) / XF100-400mm OIS TEST at Jeff Carter youtube /
XF90mmF2
90mm Review at photozone:
"The Fujinon XF 90mm f/2 R LM WR is the best Fujifilm lens that we have tested so far. It is exceedingly sharp straight from f/2 and the low amount of lateral chromatic aberrations provides an extra kick here. Distortions are basically absent and vignetting isn't an issue under in most situations as well. Unlike most mirrorless lenses, it is fully corrected and doesn't really rely on any digital image auto-correction."
Fujifilm XF 90mm f2 review at cameralabs:
"Ultimately the XF 90mm f2 is another superb addition to the growing X-system and one which will delight portrait photographers, not to mention anyone who shoots close-range action or likes to capture tighter details on landscapes and buildings. It excels at subject separation with well-behaved bokeh, but is also one of the sharpest and fastest focusers in the range."