Fujifilm X Lab "Secret" Development Story of Fujinon f/1.4 lenses and More "Full Power" Lenses Coming in Future (also Zooms)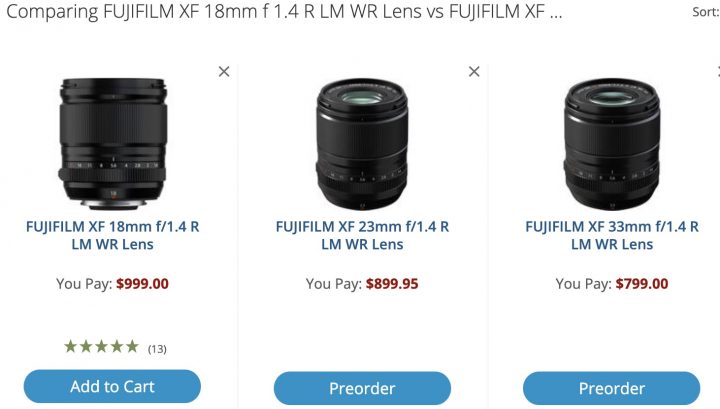 In episode 22/23 of the Fujifilm X Lab series, Fujifilm managers and engineers gather together to talk about the inside story and what they call the "development secrets" of the new generation fast f/1.4 prime lenses, the "XF18mmF1.4 R LM WR", "XF23mmF1.4 R LM WR" and "XF33mmF1.4 R LM WR".
Episode 22 is dedicate to the Fujinon XF18mm f/1.4 R LM WR whereas episode 23 focuses on the Fujinon XF23mmF1.4 R LM WR and  Fujinon XF33mmF1.4 R LM WR.
It's once again in Japanese and we rely on the automatic Google translation tool, which is far from optimal. I went through this pain for you and summed it up below. However, if any Japanese FR-reader has the time and would like to make a better translation for us, feel free to drop it down in the comments or send it over to me at fujirumor@gmail.com.
With that said, down below are the key points of the video as we as the video itself.
Introduction
2022 is 10th anniversary of Fujifilm X series
the new 18/1.4, 23/1.4 and 33/1.4 introduce a new generation of fast lenses made "not to fade" in the next 10 years
[Note: FujiRumors readers already know since a long time, that also the Fujinon XF56mmF1.2 will get its refresh in 2022]
fast autofocus motor
at the beginning of the X series, the goal was to make "joy back lenses" [admin note: I guess they mean more retro styled lenses with vintage operations like the focus clutch and certain character in the images]
XF18mm f/1.4 R LM WR
the XF18mmf/2 was a small compact pancake lens
there are some zoom lenses that cover the 18mm range already. It's a popular focal length also for smartphones
The engineer who made the lens said that when he makes a lens, it's better one that he enjoys using himself
the engineer aimed for high image quality and fast autofocus speed
the size and diameter of the lens make it particularly comfortable to hold when taking pictures. He would not want it bigger than it is now
the wanted to make fast focusing lens, but also with little chromatic aberration. Hence they had to make sure that does not fluctuate and changes when the is focusing
linear motors move smoothly
the current motor has a lock mechanism. Other lenses with linear motor, when switched off, and you move the lens, they will rattle.
the shape of the focus ring makes it easy to remove dust
XF33mm f/1.4 R LM WR
the XF35mm f/1.4 R sold very well and is still selling well
the 33mm has exactly a 50mm full frame equivalent focal length
Fujifilm continues to sell both lenses
customers love the XF35mmF1.4 for its small size and the character images it takes
where the  XF35mmF1.4 is not so good is autofocus speed
the engineer wanted to make a new lens that keeps the virtues of the XF35mmF1.4 (small size, soft and pleasing bokeh) and improves the bad parts
they wanted to make a new XF35mmF1.4, but the blur was no longer so soft and the linear motor increased the size
So they decided to go with a completely different concept and also change the focal length to 33mm
XF23mm f/1.4 R LM WR
it's a very popular focal length and it was important to improve and renew it
Fujifilm decided that they had to improve 2 things: reduce chromatic aberration and improve short-distance performance (focuses as close as 19cm compared to 28cm of the original version)
the managers were worried that the new 23 has no focus clutch
due to design restraints, using the clutch would not have allowed to reach the overall performance of the new 23mm
Ending
small size and high performance, that's the X series
Fujifilm listens to customer needs
they want to make more "full power" lenses, also zooms
The new Generation Trinity and the Classic Versions