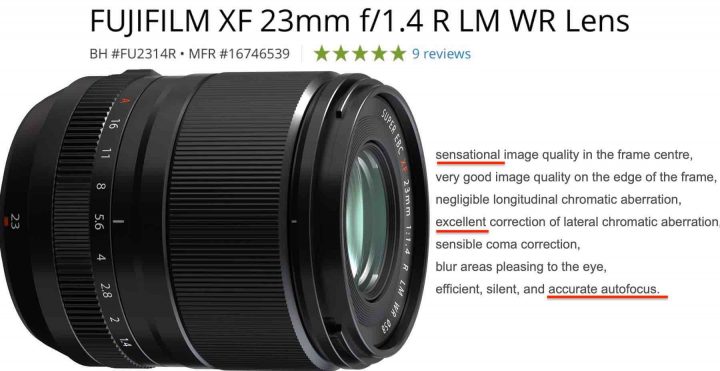 So, here is what I am probably going to do. I do plan to replace my current Fujinon XF 23mm F1.4 R with the brand new Fujinon XF23mm F1.4 R LM WR.
Not that I am unhappy with my 23mm, which has served me well for many years. At my parents-in-law home there are two big prints of images I took with that lens. And also at the wedding I shot last year is was my absolute workhorse along with my XF56mmF1.2 delivering images that the bridal couple totally love.
However, if I am in love with my XF35mmF1.4 and will never sell it, I can't say the same of the XF23mmF1.4. So, if Fujifilm releases something "better", then I have no problem to sell my good old 23mm for the newer version.
And I must say, the latest Lenstip review of this lens, is really pushing me towards replacing my XF23mmF1.4 faster than I actually planed. The only problem: go and find one! It's mostly out of stock.
Look at the Pros and Cons that Lenstip identified for the new Fujinon XF23mm f/1.4 R LM WR:
Pros:
solid, weather-sealed casing, mostly made of metal,
sensational image quality in the frame centre,
very good image quality on the edge of the frame,
negligible longitudinal chromatic aberration,
excellent correction of lateral chromatic aberration,
sensible coma correction,
blur areas pleasing to the eye,
efficient, silent, and accurate autofocus.
Cons:
a bit too high vignetting,
performance against bright light should have been better.
They conclude:
The results of our test show clearly that refreshing the 1.4/23 model was a very good idea. The new lens provides an excellent image quality across the frame, no matter what aperture you employ. Taking into account the fact that you deal here with a fast, wide-angle lens such an achievement is especially praiseworthy. The price of the Fujinon XF 23 mm f/1.4 R LM WR is not low, reaching $900, but complaining here would be justified only if the lens had some serious slip-ups. Our test showed that it performs exceedingly well in almost all categories so you can only shrug and say that high quality doesn't come cheap.
You can read the full review at lenstip here.
And since we talk about the latest and greatest lenses, let's add to Lenstip review also some other about the XF23mmF1.4 R LM WR, but also about the other two siblings, the XF18mmF1.4 R LM WR and the XF33mm F1.4 R LM WR.
More XF18/23/33 Reviews