Fujifilm X Lab Episode 2: The ACROS Magic, Fuji X-T3 Autofocus Regrets, Kaizen Updates and Looking Forward to X Series Future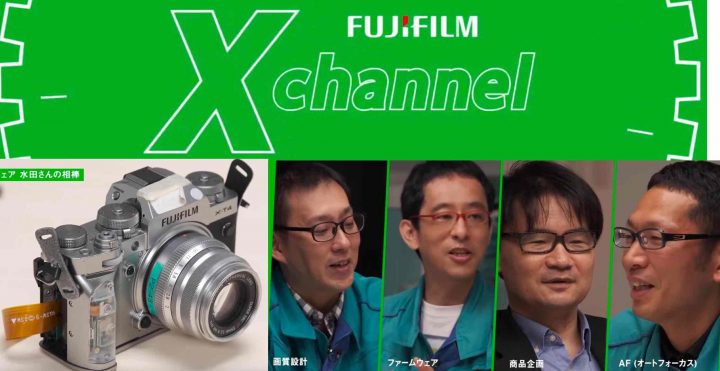 Fujifilm just published the second episode of their X Lab series (you can see the first one here).
It's again in Japanese, and google translate struggles, with cryptic translations.
Luckily also this time a fellow Japanese speaking FR-reader translated it for us (thanks!).
Fujifilm X Tech Talk Transcript
Mr. Ueno (Product Planner)
I'm curious if there are any regrets among you?
Announcer
We will continue reflecting on the X Series development. Have there been any regrets?
Mr. Uchida (AF)
For X-T3, we wanted to improve autofocus speeds, including during continuous shooting.
We could not achieve this as much as we wanted due to other priorities, as this was the first full sensor phase detect AF.
What was achieved in X-T4 was what we wanted.
Mr. Ueno
Though we cannot make excuses, meeting the product launch deadline can be difficult, and there are understandable limitations.
Ideally there are many tasks that you want to do by launch, but to accomplish those, the product could take 5 years, which is not a feasible thought.
We must realize what the users want, and prioritize depending on that.
How about regrets in image development, though I feel like there aren't any?
Mr. Irie (IQ)
Nothing that I felt was unfinished, but there is one regret.
We introduced Acros with X-Pro2 — this was not just a filter where random noise is injected.
Acros' processing was converting sensor noise into film noise.

Mr. Ueno comment: And you didn't even mention it to us about this until it was done.

This is an Acros-specific process, and the burden on the development team increased quite a lot, which I half regret.
Mr. Ueno
That work for Acros was appreciated by many — I had heard many user requests to create a B&W specific X-Pro2.
Discussion with various product development groups in Japan and overseas, they all said Fuji has Acros.
Pros have a need for either color or B&W in any given situation, and everyone stated that having 2 separate models just did not make sense, so we were asked to push forward with this reasoning.
I think the fact that this was a topic of discussion shows the profound effect of Acros in B&W photography.
Let's move onto firmware.
Mr. Mizuta (FW)
Not being able to meet everyone's needs and requests, both from devs and users, and the fact that this continues…this is difficult, but I still need to be optimistic.

Mr. Ueno comment: FW updates have become a part of Fujifilm. Older models have received updates, such as film sims, AF improvements. The customers have had to spend a lot, and we should provide improvements to allow them to use the product longer. This is something FW development can be proud of.

Many might not realize, regarding products with sensors and processors that are the same between models.

Mr. Ueno comment: Yes I hear this a lot…people say, "it's just copy/paste right?"

There are slight nuances between products so this is not the case.
A lot of fine tuning is actually involved, and the team must reconvene for these updates.
Announcer
What is the future outlook for the X Series?
Mr. Uchida
I want to make AF able to take any scene, and the scene needs to be in focus when the finger is already pushing the shutter button.
The shutter button and the brain need to be connected…of course in reality this is not really feasible but that is what I strive for.
Mr. Ueno
AF focus is now 0.02s or so — speed is probably fast enough.
However, subject movement can be unpredictable, so improving on subject tracking would be favorable.
How about IQ?
Mr. Irie
Recently GFX has really come into the spotlight.
Irregardless of bokeh or sensor size, there is something special about it — there is richness, depth, like whiskey.
Image quality had usually been quantifiable/objective and able to be engineered, but I am still unable to grasp the GFX series' quality.
I would like to be able to quantify and engineer the IQ of the GFX into the X.
Mr. Mizuta
Everyone has something they want to incorporate into the system — my mission is to be able to answer to those as much as I can.
I understand the comments from devs and customers, and I want to do what I can to meet those needs.
Mr. Ueno
All the listeners are probably getting their hopes up.
Product planning is also looking forward to the future of the X series.
Let's continue to strive to make the X a great camera.
FujiRumors is on Patreon, Facebook, Instagram, RSS-feed, Youtube, Flipboard and Twitter