Fujifilm USA New Big X/GFX Deals: Here are My Top 3 Deal Picks and Vote Your Favorites!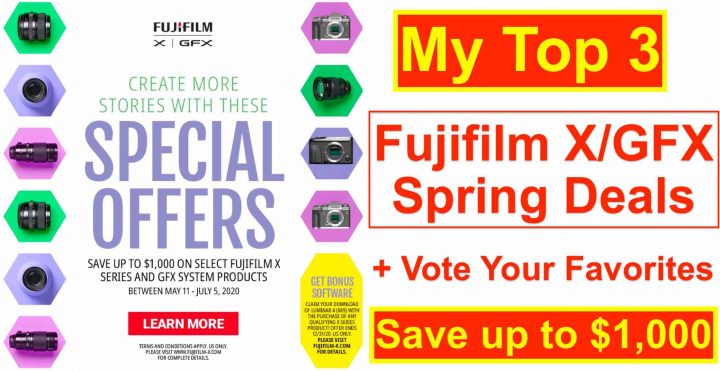 Fujifilm USA has just launched huge savings on X/GFX cameras and lenses. You can see the full list of deals here and down below.
But I wanted to highlight 3 deals, that are, in my opinion, the best ones this time around.
TOP 1: Fujifilm X-E3 (+bundle options)
Deal Price: $499 for the body / $799 with XF18-55 / $749 with XF23mmF2
As an owner of a lovely X-E3, I can safely say that this is a fantastic camera… IF… you are looking for a really compact interchangeable lens camera system. Sleek and clean design, great performance and frankly just good looking. Don't buy it if you are left eye dominant (unless you have a Voldemort nose, as Trenton would say), but if you are right eye dominant (like me), then I tell you: this is the camera you want to take with you on travels. Strongest competitor: Fujifilm X-T20.
TOP 2: Fujifilm GFX50R with GF 50mm F3.5
Deal Price: GFX50R body $3,499 / GF 50mmF3.5 $499
Maybe some of you might argue that this should be considered the best deal of the Fujifilm Spring Sales. Maybe you are right, but there is a very scientific reason why it has to rank second: FujiRumors is an X-E fanboy ;).
With that said, with the Fujifilm GFX50R you get a relatively compact and high resolution medium format body with a 70% larger sensor than full frame for the same price of a full frame Sony A7rIV. Add to this a little prime lens that is capable of resolving 100+ megapixel images (the GF50mmF3.5) for just $499 and I'd understand if you'd tell me that this is, indeed, the best deal of this round.
TOP 3: Fujinon XF200mm f/2
Deal Price: $4,999 (including 1.4x teleconverter)
You know when all the vloggers moaned that there are no "full frame equivalent fast" APS-C lenses"? Well, the Fujinon XF200mmF2 is one of those lenses that made them all happy. And moreover, it performs incredibly well. Matt Granger said it is worth all of its $6,000. But also many others where blown away.
Sure, a lens like this is condemned to be and remain a niche lens. But now, at this price, it's great value for the money. If you belong to that niche, now it's a great time to get it.
Runner Up: Fujinon XF100-400mm
Deal Price: $1,399
With a hefty $500 rebate, this is a great deal on the longest Fujinon X mount lens you can get.
Do you agree with my list? Let me know and vote the "deal survey" at the bottom of this post.
Full List of Deals
GFX Gear
X Lenses
X Cameras

Loading ...