Fujifilm to launch a new PRO-photographer service in 2015 like Nikon's/Canon's NPS/CPS! (anonymous source)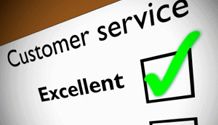 [UPDATE: Just now Rick Lewis said in the comments: "Patrick, I think I can confirm this (100%). I spoke with a Fuji USA service tech last month about a fix for the X-T1 D-pad issue and he said no fix yet but the good news is a Fujifilm Pro Services department in 2015. He said it was coming, not maybe it was coming. I actually made him say it twice! :-) Very good news!!"]
According to an anonymous source with nick-name (thanks), Fuji will launch a new PRO-photographer service next year. The service will be like Nikon's/Canon's NPS/CPS (they offer 24/7 phone and e-mail support, expedited and discounted equipment maintenance and repairs, Equipment Evaluation Loans, on-site support at select events and shows, discounts on seminars and workshops, and more).
That would be definitely a great news (if true) for those who ditched their DSLR's to make all their PRO work with the Fuji System. Just let's cross fingers that the rumor is correct. But for now, the grain of salt is mandatory.
btw, I'd call the service XPS (for eXpress service)… just a suggestion, Fuji… it's for free ;)
You're great guys, Keep up sharing rumors !