FUJIFILM Instax SP-2 Printer to be Announced on June 27 :: Instax SP-1 Discontinued at BHphoto!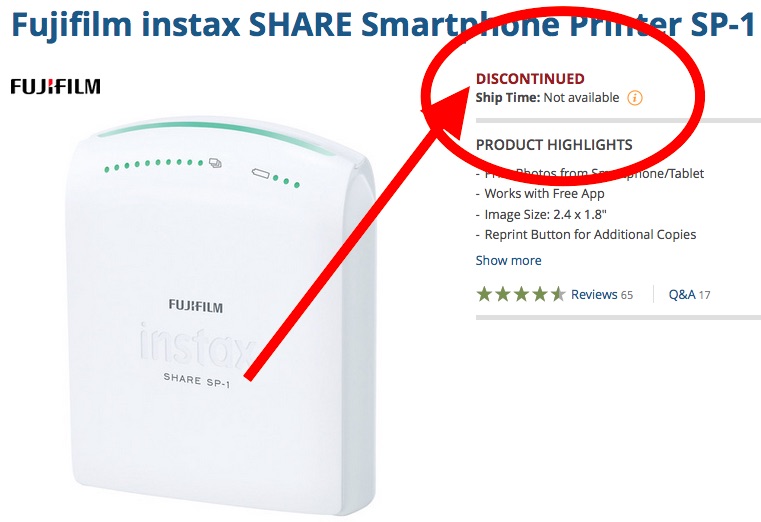 Fujifilm Instax SP-2 Printer
According to a trusted source (thanks!) Fujfilm will announce the Instax SP-2 printer on June 27… and you can bet I'll place my order for that one!
The source also confirms the specs we have shared in previous Instax SP-2 printer rumors, like the [shoplink 46113 ebay]rechargeable NP45 batteries[/shoplink] (charing via USB possible), faster prints, higher print quality (320dpi compared to the 254dpi of the Instax Share SP-1), the silver/gold colors and more.
Check out the links below and you'll have an overview over the full specs.
The image size will remain the same: 62mm x 46mm.
Many X-shooters are having a lot of fun with the original Instax Share SP-1 Printer and now consider it an essential device, especially for travels. You can read their experience in this Fujifilm instax Sp1 for traveling thread.
And how useful this little printer can be also for street photography, is shown by talented X-photographer Bert Stephani in this great X100T Video Review (comes with street photography vision and tips).
Instax Share SP-2 Printer :: Prints in 10 seconds, NP45 battery, slightly thinner and more colors!
Fujifilm Instax Share SP-2 Printer Coming Soon… with Highly Welcome Improvements (Finally!!!) – TRUSTED SOURCE