Fujifilm Instax Mini Link 2 Printer Announced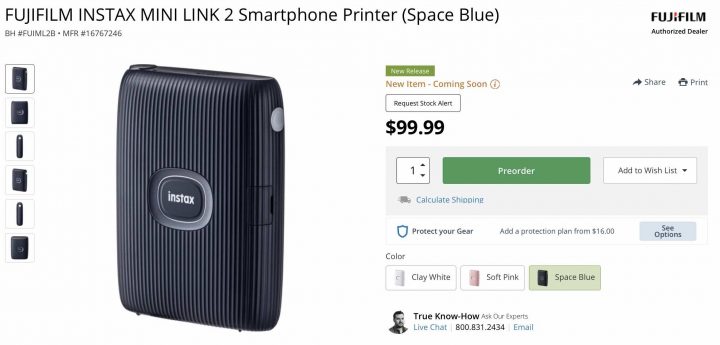 My wishes as far as Instax printer goes ended when Fujfiilm announced the Instax Mini Link Wide, which I bought and now use with great joy.
But the Mini format is nice, too. In fact, I have printed in mini format plenty of images, and still today my mom carries images of my son in her wallet which were printed in Mini. Because that's the huge advantage of this format: it fits in any wallet.
On the other hand, my apartment is now paved with Instax Wide prints, which stick on my fridge, on the wall and thanks to an amazing "hack" I have even framed nicely. If you want to know the "hack", let me know. Once back from holiday I'll make a video about it if you are interested.
Anyway, we are here to talk about the new Instax Mini Link 2, which has just been announced. You can find all details in the Fuji Guys video down below and check out specs and price here.
Instax Mini Link 2
About Fujifilm Instax Mini Link 2
Creativity is in the AiR with the Instax Mini Link 2 Smartphone Printer
The Instax Mini Link 2 Smartphone Printer connects wirelessly in a simple, yet super fun way!
Connect to your Smartphone via the free downloadable Instax Mini Link App and watch creativity flow with the all-new INSTAXAiR feature. Add bubbles, petals, neon, spray paint or even glitter to your shot by drawing in the air with the MINI LINK 2 Printer, all before printing out onto INSTAX MINI instant film. You can even record a video of the drawing and share the moment as a printable QR code, ready to scan with a Smartphone.
Keep on moving with your MINI LINK 2 Smartphone Printer. Got a favorite shot? Turn the printer over and reprint it. Ready for some high-speed printing? Keep the printer upright in Print Mode. Seeking some creative inspo? Pop it on it's back in Fun Mode. Want to control your Smartphone Camera with your MINI LINK 2 Printer? Power up INSTAX Camera Mode in the App.
Great minds…think alike? Test your compatibility with you and your friends by using the "Go with your instinct" Mode in the Match Test and wait for the printer to print your compatibility score up to 100 on your photo. If you're more of a quiz sort of gang, answer the questions and print out the results on a picture of you and your BFF.
Last, but not least, select your image preference! You can choose between two image color modes – INSTAX-Rich Mode for rich colors and INSTAX-Natural Mode for a natural image quality. Also print from videos and add frames, stickers or sketches to add more of your personality to your photos! There is no doubt, Creativity is in the AiR WITH THE Instax Mini Link 2 Smartphone Printer!
Fujifilm Instax Mini Link 2 Features
Compact and lightweight
Connects wirelessly via Bluetooth to your Smartphone
For use with INSTAX MINI instant film only (sold separately)
Prints 2″ x 3″ photos
Requires downloading of free Instax Mini Link Smartphone App
Add frames, filters, sketches and stickers prior to printing
Print photos from videos
Using the INSTAXAiR feature, add doodles or shapes to your photos
Record your drawing and print a QR code on your image
Enjoy various creative Printing Modes