Fujifilm India: "Using Fujifilm Cameras as a Webcam Possible Soon thanks to Plug-and-Play Firmware Update" and Pro Res RAW Video?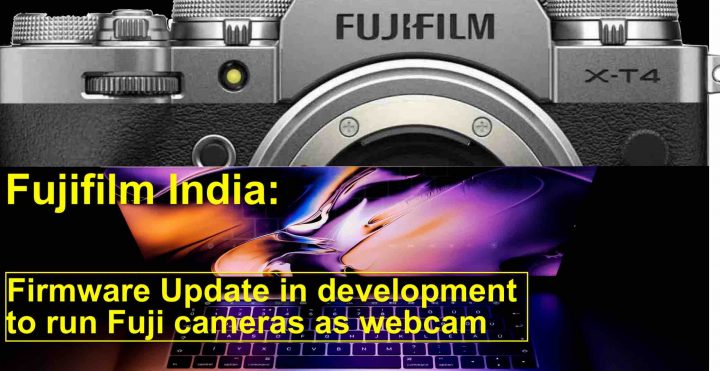 Did you listen to the 1 hour and 36 minutes long Fujifilm India live event with bad audio quality and half of it spoken in Hindi?
Probably not… but I did (you're welcome) :).
I reported about it here already, when we talked about the Fujinon XF50mm f/1.0.
And trust me, everything else they said, you know already (smaller IBIS, longer shutter life etc).
I don't want to waste your precious time, so let's get to the point of the only thing, that was new.
In fact, there was one thing said, 1+ hours into the talk, that I thought deserves a separate article. And it's the only really new thing of all the event.
When the Fujifilm India product team was asked about the use of Fujifilm cameras as a webcam, one Fuji guy answered (I quote):
Live streaming is getting very popular and of course important during the COVID-19 situation. We all need a camera which you can just plug-and-play.

I can not say about it definitely, but I have heard from the developing team that we are developing something and they are soon going to release a firmware. There will be plug-and-play, and the X series camera will become like a webcam.

Yes, I have heard they are working on it, but I have no confirmation at this moment. But definitely they are doing something. Something is cooking.
Much more vague the answer if there will be Pro Res RAW for video via ATOMOS. Basically a "we know about this demand but we don't know if it will come".
Let's hope that's correct and more accurate than what another Fuji guy said during the same event, claiming that the X-T4 processor is improved over X-T3, so X-T4 is faster than X-T3.
How to run a Fujifilm camera as a webcam at this point in time?
Well there are two options:
Let's cross fingers this firmware comes soon!
Oh… and namaste!
Our Owners Groups
Our Facebook Pages