Fujifilm GFX 50s Review at PhotographyBlog: "Simply Outstanding IQ, Endless Details and Excellent Noise"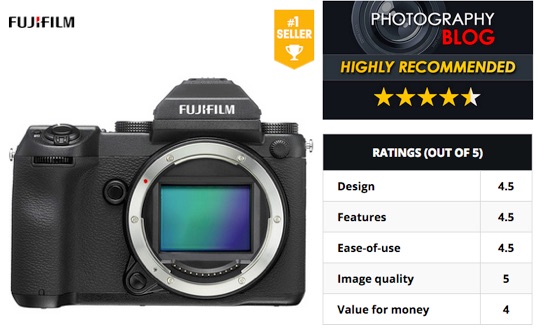 Photographyblog just posted their full Fujifilm GFX 50s review. From the conclusions:
"Still image quality is simply outstanding, with seemingly endless detail thanks to the 50 megapixel sensor, huge depth of field that makes it easy to isolate your subject, and excellent noise performance from ISO 100-3200. The two new GF lenses that we tested the GFX 50S with are both excellent performers too, if unsurprisingly pricey, with the 63mm proving to be a great walk-around lens and the 120mm very capable for both macro work and portraiture.
The GFX 50S also impresses when it comes to performance and operation. It almost instantly starts up, and the contrast-based auto-focus system is quick enough to keep up with moving subjects, making the GFX quicker and more versatile than the sloth-like Hasselblad X1D. […] we did miss having a dedicated exposure compensation dial, as on the X-T2, and some of the buttons are rather too small for their own good.
In summary, the Fujifilm GFX 50S is a very impressive debut in the embryonic medium-format mirrorless camera market, and perhaps more importantly, it's simply a lovely camera to use and one which delivers stellar image quality with the minimum of fuss."
Check out the whole review at photographyblog. And feel free to join our 10,700+ members strong GFX facebook group and to follow the dedicated GFX facebook page.
Fujifilm GFX 50s: USA BHphoto, Adorama, AmazonUS EU: AmazonDE, AmazonUK, WexUK, ParkCamerasUK, PCHstore AUS: CameraPro