Fujifilm GFX 50s Review: "Breath-Taking Image Quality. Best Value for Money of Any Medium Format EVER!" (ePhotoZine)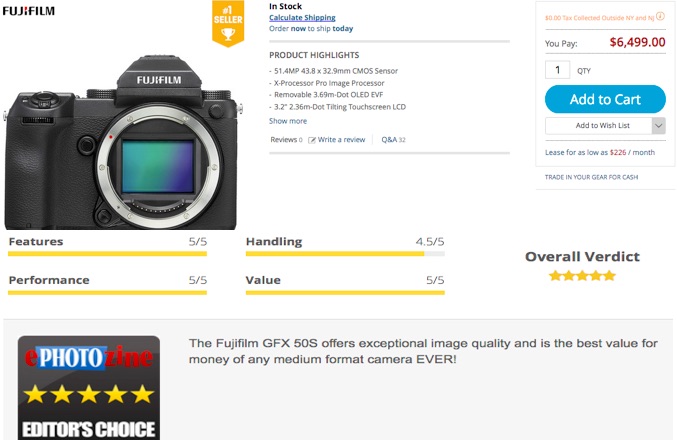 ePhotozine just published their full Fujifilm GFX 50s Review. From their conclusions:
"The image quality possible is simply breath-taking – noise is extremely well controlled, colour reproduction is excellent, and the camera delivers Fujifilm's beautiful colours. There's also Fujifilm's range of film simulations, so you can have the colour style you want. The GFX 50S makes medium format photography accessible in another way too, in that you don't have to process every raw file to get the best out of it, with the camera producing excellent JPEG images straight from the camera. […]
Whether you should invest in the Fujifilm GFX 50S camera and system isn't necessarily a question of whether the camera is good enough or not, it is, without a doubt, an excellent camera, and well worth the money. It makes medium format cameras accessible and delivers exceptional results.
If you have the money to spend on a camera like this, then you can't really go wrong. If you're in the market for medium format and want to move to another level of image quality then the Fujifilm GFX 50s delivers phenomenal image quality in spades and buckets."
Read the whole review at ePhotozine
Fujifilm GFX 50s: BHphoto, Adorama, AmazonUS
Join the 12,000+ strong GFX facebook group, and incredibely helpful community creating infinite GFX content. For fast, reliable, and 100% GFX news and rumors follow the Fujifilm GFX facebook page.